Housing conditions problematic in several Canadian cities including Toronto, CMHC says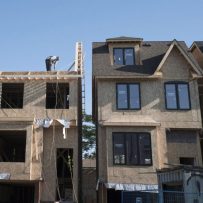 Among the most prevalent problems is overvaluation — when house prices outpace economic fundamentals such as income and employment.
Strong evidence of problematic conditions continues to exist in the national housing market, as accelerating prices spill out from Canada's two most expensive cities to surrounding areas, according to the federal housing agency.
The surging costs have spread from Toronto to Hamilton and from Vancouver to Victoria, as many homebuyers have found themselves priced out of the larger cities, Canada Mortgage and Housing Corp. (CMHC) said in its latest report.
"There seems to be a fanning out of those price pressures," CMHC's chief economist Bob Dugan told reporters during a conference call Thursday.

"Homebuyers in these centres should be prudent to ensure that their purchases are aligned with their needs, as well as the long-term market outlook."
CMHC has also found evidence of price acceleration in Toronto and Vancouver spreading to a number of other areas that aren't covered by the housing market assessment, such as Barrie, Ont., Oshawa, Ont., and Kelowna, B.C.
The housing agency says the most prevalent issues it has observed in the 15 markets monitored by the assessment are overbuilding and overvaluation, which occurs when house prices outpace economic fundamentals such as income and population growth.
Overbuilding is identified when the rental market vacancy rate or the number of newly built homes sitting on the market unsold become elevated.
CMHC first raised its overall risk rating for the national housing market to strong from moderate last October, citing growing evidence of overvaluation.
Since October's report, CMHC has upgraded the risk rating for Victoria to strong from weak, as moderate evidence of overvaluation in that market has surfaced.
Meanwhile, Calgary's risk rating was downgraded to moderate from strong, as evidence of overvaluation in that market lessened.
In total, CMHC says it has found strong evidence of problematic conditions in six of the 15 markets included in the report: Vancouver, Victoria, Saskatoon, Regina, Toronto and Hamilton.
Edmonton, Calgary, Winnipeg, Montreal and Quebec City show moderate evidence of such conditions, the agency said.
CMHC's housing market assessment is intended to be an early warning system to alert Canadians about problematic conditions developing in the country's real estate markets.
The report covers the third quarter of 2016, which spans from July 1 to Sept. 30.
Since then, the federal government introduced new rules that require all insured mortgages to undergo a stress test to determine whether borrowers will still able to make mortgage payments if interest rates rise or their income declines.
Previously, such stress tests weren't required for fixed-rate mortgages longer than five years.
CMHC says it will take some time before the impact of the rule changes is reflected in the housing market assessment.