Hot real estate heats up apartment market to heights not seen in 30 years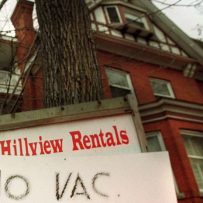 Story by: Garry Marr
How hot is the residential housing market? Well, for the first time in decades, developers are considering building rental housing because they can actually make money — buoyed by consumers priced out of becoming homeowners.
In Toronto's red-hot housing market, where January prices across existing homes climbed 22.6 per cent from a year ago, consumers have been flooding back to apartments where the vacancy rate was already just 1.3 per cent, according to a Canada Mortgage and Housing Corp. October market survey.
A report from Avison Young suggests that tight vacancy rate, which the company says is now closer to one per cent, is leading to rising prices that have seen what it calls "challenged" properties go for $150,000 per rental unit and up to $300,000 for premium properties.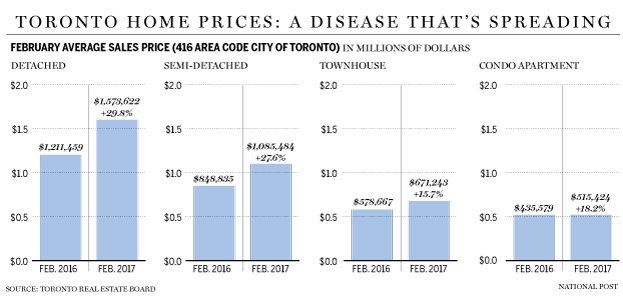 The capitalization rate, the ratio of net operating income to property asset value, is now just four per cent on average across the GTA but as low as 3.25 per cent. The lower the cap rate, the more a property is worth. A four per cent cap rate assumes it will take 25 years for a property to pay for itself based on its income stream.
Valuations, coupled with changes to rent control rules that allow landlords to charge market rates, have created a viable economic option to build. It's not the golden age of the 1960s and 1970s when most of the apartments in the country were built, but market conditions are better than they've been in three decades.
That has led to a spike in the number of proposed purpose-built rental units: In Toronto, developers are currently planning to build 27,812 units, almost triple the number a year ago. That compares to 49 purpose-built rental projects with 8,484 units have been added to the market since 2005.
David Lieberman, a principal at Avison Young in Toronto, said the turning point for the rental market probably can be traced to 2004 when the housing market took off.
"What is going on in the market right now, talking to various educated people, developers building the condo, selling the condos, there just isn't much logic right now," said Lieberman, about rising rental rates. "If you don't ask (for a higher rent), you don't get it."
Urbanation Inc. said the average rent in purpose-built units in GTA has climbed to $2.77 per square foot in 2016, an 11.6 per cent increase in price from the $2.48 just a year earlier.
"We're at seven-year low for vacancy rates," says Lieberman, who notes that the vacancy rate (in the GTA) in the apartment market climbed to almost four per cent in 2004. "What happened there is people just start buying houses (and leaving the apartment market). All the cheap mortgage money had everybody looking to buy. And the market was losing tenants to buyers."
There is no denying the changes to rent control in Ontario in 1998 suddenly made institutional players like pension funds and real estate investment trusts see the growth in the sector, Lieberman noted in a recent comment on the market.
"Government is always a threat and game changer, a business risk. We had a convergence of things," he says referring to easing of rental rules but also the strength of the housing market. "We didn't have any multi-residential construction for years. Don't forget we also didn't have any REIT legislation before either. Government legislations can change everything."
It's not just Toronto: Valuations for rental units have been going up across the country. Real estate company CBRE said in a yearend report for 2016 that cap rates have been trending up for two years and nationally they now stand at 4.16 per cent for multi-family high-rise Class A buildings.
Vancouver is probably the hottest market in the country, as rental apartment valuations operate in the shadow of the housing market. CBRE had them pegged as low as 2.75 per cent for multi-family Class A high-rise units in its year end report but that percentage is partially a function of speculators banking on converting property to residential ownership while also considering the possibilities of adding density to their land or hiking rents.
"Record housing prices guaranteed that multi-family assets would react in kind," said CBRE, in its report, referring to Vancouver prices.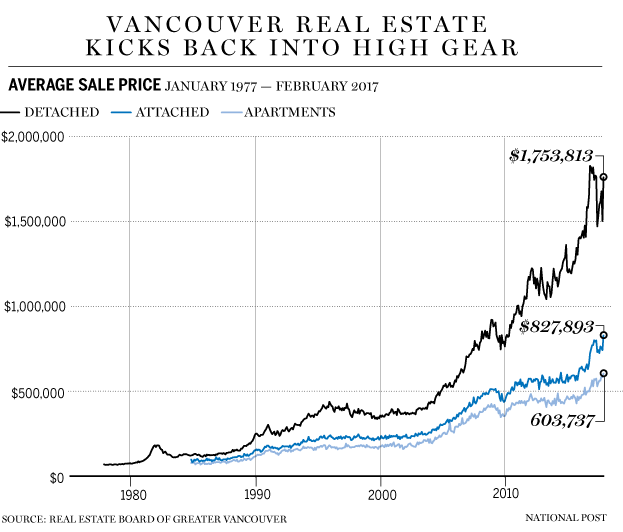 There are more than two million apartment units across the country and about half of them were built during the period from 1960-1979, according to CMHC. Only about 180,000 units have been constructed from 2000 to present, resulting in an aging apartment stock.
"We have seen an increase in the completions in the purpose built under construction but the main source of rental growth is still coming from the condo market with investors buying and renting out the units," said Bob Dugan, chief economist with CMHC.
Derek Lobo, chief executive of SVN Rock Advisors Inc., says the dynamics for rental construction have improved dramatically — one of the reasons he was able to broker a deal Thursday for what he says was the largest rental community in Canada in a generation.
"Nothing has really been built in Canada in decades on a scale like this," he says about 739-unit complex in Kanata Lakes in suburban Ottawa that sold for $250 million this past week. The five-acre site with five buildings developed by Francis Lépine broke ground in 2010 and was sold to Killam Apartment REIT and and institutional investor KingSett Capital.
There are other deals in the works. Vancouver-based developer Westbank Corp. plans one of the most ambitious developments in recent Toronto rental history with its redevelopment of the famed Honest Ed's site, where 1,000 rental units will be constructed as part of the redevelopment 1.8 hectare site.
"Everybody wants to own apartments," says Lobo, adding the risk in development is nobody wants to do it on their own. "(The developments) require partnerships to be formed with institutions."
Lobo says as house prices continue to rise, he believes more and more of the population will switch to rental. "With housing prices the way they are, we are going to lock out people from the market like in New York. In New York, rich people rent because they just can't afford to buy something."
He adds that more supply — even the high-end projects being built today — should be good for tenants over time. "What it does is pushes down the market. You're taking someone out of another rental and bringing them into (a higher end) unit," says Lobo. "You're also going to see a massive amount of customer service come back to the industry if landlords have to compete for tenants."