'Horrible feeling': Economist warns more housing measures would be disastrous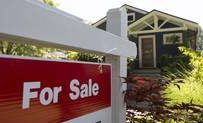 After several big policy moves aimed at cooling Canadian real estate, a prominent housing bear says he can't shake the "horrible feeling" that any further steps will lead to disaster.
In the almost 12 months since Finance Minister Bill Morneau announced his working group on housing, Ottawa has made it harder for Canadians to get an insured mortgage through more stringent stress tests.
In the meantime, B.C. and Ontario have pulled policy levers – most notably taking aim at foreign investors with a 15 per cent tax.
"I really do worry that policymakers might forge ahead and tighten regulatory policy further, under the false assumption that house prices are still rising rapidly," David Madani, senior Canadian economist at Capital Economics, told BNN in an email.
"The housing speculation tax doing the rounds in the media over the past few days is one example."
During an Economic Club of Canada panel discussion on Wednesday, the chief economist of the Canadian Real Estate Association said he doesn't think policymakers are "done yet" when it comes to housing.
A tax on speculative home purchases, Gregory Klump added, is a possibility – a move he said would be misguided.
"We should be concerned… This was tried back in 1974 and it wrecked the entire housing market," Madani said of a tax targeting property flippers.
"I cannot shake this horrible feeling that history is about to repeat itself."
Facing soaring home prices, the Ontario government under Premier Bill Davis introduced a 50-per-cent land speculation tax in its 1974 budget.
In short order, the market went bust.
"There is no question [policymakers] are determined to slow the market," Benjamin Tal, CIBC deputy chief economist, said in an email.

"They will rest for now, but I think that to the extent we see another wave of price acceleration [a speculator's tax] will be the next move."
That said, Tal doesn't see a tax targeting property flippers as necessarily a dangerous move.
"I probably will not object to that move if we define speculators correctly; say a sale within one or two years with many exemptions – students, diplomats, temporary workers and so on."
While Ontario's recent measures have been followed by a sharp drop in sales and a near 50 per cent jump in new listings in May, market observers are skeptical about how long a downturn could last.
Many are pointing to Vancouver, where the market is showing signs of stability and upward price pressures just several months after B.C. brought in its measures.
"Less than a year later, and the effect is certainly diminished (in Vancouver)," Sherry Cooper, chief economist at Dominion Lending Centres, told BNN in a phone interview.
While that raises the spectre of Toronto bouncing back later this year, Cooper said policymakers are likely in "wait-and-see" mode now.
"They've done quite a bit, it's time to see how it all unfolds," she said.
"They're looking for soft landing, not a crash."
Over at BMO Capital Markets, Senior Economist Sal Guatieri says the time for policy tinkering has passed.
"Time to take out the heavy artillery: higher interest rates," Guatieri wrote in a note to clients on Thursday.
"The ball is now firmly in the Bank of Canada's court."