Home Capital Was Hours Away From Collapse: Report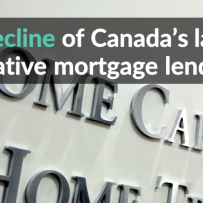 There was no end in sight to the crisis at subprime lender Home Capital this week, with the bank warning the run on its deposits casts doubt on its ability to continue operating.
Home Capital has seen 94 per cent of the deposits in its savings accounts disappear in recent weeks, as depositors fled the bank following allegations from the Ontario Securities Commission that management misled investors about mortgage fraud within its broker network.
The situation is bringing unwanted negative attention to Canada's financial system from abroad. Bets against the loonie and against Canadian banks are at elevated levels. Ratings agency Moody's this week downgraded Canada's Big Six banks, warning that consumer debt levels are too high.
Here are the latest developments in the Home Capital saga:
Morneau won't rule out federal bailout
Finance Minister Bill Morneau did not rule out a taxpayer-funded bailout of Home Capital in an interview this week, but said he is looking for the private sector to find a solution.
"It's unlikely to be a situation we're going to face," he told the Globe and Mail on the sidelines of the G7 ministers' meeting in Bari, Italy, this week.
Morneau suggested that the decision about a bailout should be made by the Office of the Superintendent of Financial Institutions (OSFI), Canada's federal banking regulator.
Home Capital warns of "knock-on effects"
A collapse of Home Capital could damage Canada's broader mortgage market, a company director told analysts and reporters on an earnings call Friday.
The company shutting down would "have significant knock-on effects, particularly to new Canadians and others who this company services," Alan Hibben said, as quoted at Bloomberg.
Home Capital is among Canada's subprime lenders, who provide mortgages to borrowers the large banks won't do business with. These are often immigrants with limited credit history or small business owners, Hibben said.
Lender was hours away from collapse
Home Capital almost didn't open its doors for business on Monday, May 1, as it struggled to find the cash it needed to keep operating, according to an investigation by the Globe and Mail.
In the early hours of Monday morning, OSFI was on standby, ready to take control of the lender at opening on Monday, as Home Capital struggled to get financing from the Healthcare of Ontario Pension Plan, which had agreed to give the lender a $2-billion line of credit, albeit with 10 per cent interest and high fees.
Lawyers were arguing over the details of the first $1-billion drawdown of the funding. A deal was finally reached around 7 a.m. Monday morning — just a few hours before regulators would have seized Home Capital.
Read the whole Globe and Mail story here.
A boost from CIBC, MCAP
Faced with concerns over the health of Canada's financial system, some of Home Capital's competitors have lined up to shore up the company's finances.
CIBC announced it has tripled its holdings in Home Capital, and now owns 15 per cent of the company.
Additionally, mortgage lender MCAP agreed to buy $1.5 billion of mortgages and commitments to new mortgages from Home Capital, giving the struggling lender some financial breathing room to continue doing business.