High-rise condo developments lose steam in 2018, amid demand for mid-rise projects: Urbanation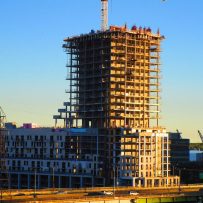 The GTA new condo market was dominated by a wave of high-rise launches in 2017. But this year, towering condo projects may be replaced with some more modest counterparts, according to a new report from Urbanation.
There were just 27 launches of condo projects taller than 12 storeys in the first half of 2018, a 34 per cent drop from the 41 projects that launched during the same period in 2017. Meanwhile, there were 15 launches of mid-rise buildings under 12 storeys, down just slightly from 2017's 17.
"2017 was an explosive year for new condominium sales, and by far the largest group of purchasers were investors," Urbanation senior VP at Urbanation. "However…investors have begun to act more cautiously – as have developers. "
Hildebrand points to high construction costs and approval delays for the slowdown in high-rise launches. Another factor? An increase in demand for mid-rise projects, from families priced out of the low-rise market.
Mid-rise projects represented just 12 per cent of new launches in 2017, and Hildebrand says the lack of supply has contributed to demand for the property type. Urbanation projects that there could be up to 14 more new mid-rise projects launched by the end of 2018.
The size of the buildings is also growing, from an average of 80 units per launch in 2016 to 145 per launch in 2018. Meanwhile the average selling price for a new mid-rise condo is now $776 per square foot, up 33 per cent from 2016.
"Mid-rise projects tend to be more community and neighbourhood-based and provide an alternative form of housing for buyers priced out of single-family homes, but still want to live close to the city's amenities," says Hildebrand. "The fact is that existing mid-rise projects see very little turnover, so resale supply is very limited and often purchased in a highly competitive environment for buyers. Because of this, price appreciation in mid-rise buildings has been stronger than high-rise buildings in the resale market."