Hey Vancouver homeowners, the good news is you're all millionaires. The bad news? You're all millionaires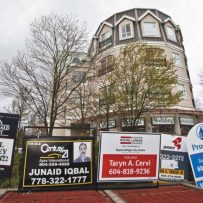 Story by: Pete McMartin, Vancouver Sun Columnist, Postmedia News
It's difficult to know what to say about the map you see with this column. The improbability of it inspires a range of reactions.
The map was plotted by Andy Yan, demographer and urban planner with Bing Thom Architects, and the acting director of the City Program at Simon Fraser University. It is the fifth or sixth incarnation of Yan's maps that have run annually in this space, all which have plotted the gradual increase of assessed value for single-family homes across the city of Vancouver.
One possible reaction to it would be shock. There, colour-coded, resides an entire city of millionaires and multimillionaires.
A decade ago, single-family homes with six-figure assessments were confined to enclaves in the most upscale of neighbourhoods. As late as five years ago, Yan's maps showed the demarcation line for million-dollar-plus homes ending just west of Main Street.
That line has now been obliterated.
Another reaction? A shrug, perhaps. We're desensitized to stratospheric house prices. Million-dollar homes are now common in the most distant of suburbs. Many would be surprised if every home in the city of Vancouver wasn't assessed over $1 million. (And as Yan's map show, west of Main Street is the new line of demarcation for homes assessed at over $2 million.)
But there's a third reaction.
It's one of mourning. The old city that its established residents knew is gone, though it may not be physically apparent yet, replaced by a new city they not only will not recognize but which will discard all that they and previous generations of Vancouverites worked to achieve in terms of livability and diversity.
This new city, the consequences of which will play out over the next couple of decades, has led to unimaginable wealth generation for those established homeowners personally. But is there anyone among them who believes what these maps represent is good for the fabric of the city? If there are, I'd say they were a minority.
"It's not completely unexpected," Yan said of his maps, "given the fact that B.C. Assessment gave a warning about the escalation in assessments. But I think within these maps resides the truth and consequences for what these types of real estate patterns represent."
Obviously, Yan said, one is the inability for working, middle-class families with children to own a home in the city. As upsetting that may be on a personal level, Yan believes the unintended consequence of that reality are even more serious.
"There are really four," he said. "There's overcrowding. There's over-indebtedness. There's sprawl. And there's outward migration.
"And if we see Vancouver as an unwinnable game, particularly for home ownership, what's the best way of winning an unwinnable game? You don't play. You resign. And I think that's the highest price that Vancouver could pay as a consequence of these high housing prices."
(And what could be a sadder consequence of high house prices than a city emptying of its children, as is now being played out with the impending closure of schools).
"And as some think they are winning," Yan said, alluding to those selling their homes at huge profits, "they could actually be losing. Hence the idea that this could be a pyrrhic form of urbanism — that is, what is the price not paid by those who win the real estate game, but by those who can't enter, in terms of economics, cultural and societal costs?
"These are effects that really have ramifications for all of us, and they're not going to be immediately apparent."
Yan does not subscribe to the theory that the influx of global capital — read offshore buyers, mostly from wealthy Chinese parking their money here — is the sole reason for the stratospheric rise in house prices, though he doesn't discount its effect, either. The extremely limited supply of single-family homes, the demand fuelled by two decades of low-cost borrowing, the effects of speculation and Metro's continued population growth have all played a part, he believes.
"It's not one factor by itself. It's all these factors flowing into Vancouver."
Yan thinks we may have to jettison what he termed our "obsession" with owning a single-family home. One path might be by making renting more palatable, he said, by ensuring more stable tenure for renters, not necessarily by rent controls but by pegging rent increases to the cost of inflation, perhaps.
But those are renters. And the gap between them and homeowners will only increase if this trend in house prices continues. In the meantime, say goodbye to the Vancouver you knew, if you haven't long ago done so.