HERE'S WHERE THE MAYORAL CANDIDATES STAND ON HOUSING & AFFORDABLE RENT IN MONTREAL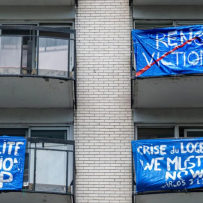 It's no secret that it's become harder than ever to find housing and affordable rent in Montreal recently. Many have called the housing situation in Montreal a crisis — and with a municipal election this weekend, it's important to know how each party hopes to solve it.
Here's where the mayoral candidates and their parties stand on housing and affordable rent in the city.
Valérie Plante & Project Montréal
Throughout her tenure as mayor, Valérie Plante and her party have positioned themselves as champions for social and affordable housing in Montreal. Plante, alongside executive committee member Robert Beaudry, has unveiled ambitious plans such as the 20/20/20 bylaw for a diverse metropolis and historic investments in social and affordable housing.
So far, her election promises have included an action plan for downtown Montreal, a "responsible landlord" certification and a Montreal rent registry program.
In the official party platform, Plante has scaled up her target for social and affordable housing to build 60,000 units "as quickly as possible." In addition, the party is proposing several "fair taxation" mandates to discourage flipping and speculation.
If elected, the party says it will continue what it has already begun.
Balarama Holness & Mouvement Montréal
Balarama Holness has so far run a campaign based on the promise of change and progress, presenting himself as a viable third option in a tightly contested mayoral race.
When it comes to housing, Holness and his Mouvement Montréal party have attempted to distinguish themselves from the current administration by promising more social housing and stricter laws around real estate speculation.
Mouvement Montréal says it would build 24,000 social housing units, 30,000 affordable rental homes and 5,000 student housing units, for a total of 59,000 social and affordable housing projects. They would also establish a landlord certification and rental registry.
Holness' party says it would beef up Projet Montréal's 20/20/20 mandate with a "30/30/30" plan requiring all new residential developments with eight or more units to offer "30% social housing and 30% affordable housing, with affordable housing costing tenants a maximum of 30% of their total monthly income before taxes."
One of the major differences would be that a Mouvement Montréal administration would have harsher regulations on Airbnbs and would establish a foreign buyers tax to "discourage rental gouging."
Denis Coderre & Ensemble Montréal
Although Denis Coderre and Ensemble Montréal aren't necessarily known for their support of social and affordable housing, even they can't ignore that there's something of a problem in the city.
This is why the Ensemble Montréal platform is rife with clear-eyed mandates to tackle the city's growing housing crisis.
The party pledges 50,000 social and affordable homes within four years, in addition to 15,000 regular new housing units to be built on the city's forgotten land assets. Coderre also recently announced a plan that would ease the financial strain on first-time homeowners by giving them a 10% rebate if they qualify.
An Ensemble Montréal administration would also make it easier to get building permits for housing and explore ways to convert underutilized downtown office buildings into housing. In addition, the party would develop more real estate around metro and REM stations.
Unlike its opponents, Ensemble Montréal wouldn't institute a landlord certification; but like its opponents, it would create a centralized rent registry.