HealthLease REIT takes young approach to seniors' housing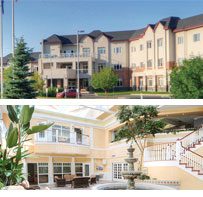 The biggest difference between the Canadian-traded REIT and most of its competitors is the age of the facilities in its portfolio: HealthLease wants to own only relatively new and modern seniors' buildings and boasts of having "one of the youngest and highest-quality portfolios of seniors housing and care facilities" on the continent.
Health Lease REIT"I don't think anyone has a portfolio nearly as young as ours," said Scott White, the REIT's executive vice-president of finance. "The average age of our portfolio is about five years across the entire portfolio."
Currently, it operates 12 properties in Alberta and B.C. and 33 properties in seven U.S. states for a total of 4,635 beds. The facilities are leased to experienced tenant operators.
HealthLease noted its leases are structured as "long-term and triple-net: features that provide stability and dependability to the REIT's cash flow and distributions."
Fast growth model
HealthLease has been able to grow quickly since it went public about two years ago because of its unique ownership structure. Mainstreet Property Group of Carmel, Ind., the minority owner and the REIT's operator, has a development agreement that provides it with the option to buy all the properties built by the U.S. company. That has produced a steady stream of properties for the REIT.
As well, it has purchased smaller portfolios from independent players in the seniors' housing market. "They have tended to be smaller owners. The larger portfolio sales we don't compete in, we don't have the cost of capital or the right size."
In March, HealthLease announced the acquisition of two newly built seniors' facilities from Mainstreet for US$37.4 million. The two facilities, which each boast 11 short-stay rehabilitation suites, are located in Castleton, Ind., and Arlington Place Health Campus in Indianapolis.
Last year, the REIT tripled its asset portfolio to 45 properties with the addition of 30 facilities.

Seniors wave
HealthLease believes that the seniors' housing market is at the start of a wave of significant change that is being spurred by the demographic wave of aging boomers who do not want the hospital-style facilities that their parents and grandparents had.
"Everybody is facing this massive wave of aging baby boomers and you have a (seniors) portfolio out there that is on average 40 years old," said White. "They were built for a different generation. Most seniors housing today is two strangers living in a room. Common bathing down the hall, cafeteria-style dining.
"They are obsolete and putting new carpet, new paint and new light fixtures in is not going to correct the structural flaws of the buildings."
Contrast those facilities with the ones the REIT is buying from competitors or from its owner-manager. "They are 90%-plus private rooms, private bathrooms, two to three on-site restaurants, eight to 10 common areas, putting green, billiards room, hair salon, two pubs, café. This is what the baby boom generation is expecting – and not just those that are going to be using these facilities but their families."
Younger boomer age family members, those in their 50s for example, are often calling the shots as to where Mom is going to stay and they want her to end up in a place that is nice to visit as well as live in, said White.
Rehab, too
The REIT is focusing on short-stay, medical rehab users as well, evidenced by its purchase of the new-build facility at the Arlington Place Health Campus.
It is looking to alleviate wear and tear suffered by the huge boomer demographic. "We believe it is a massively growing market in light of your baby boomer group reaching their 60s and having knee replacements, hip replacements, cardiac events, strokes and needing a place to go for 10, 15 or 20 days. Right now they are being discharged from the hospital, going home and ending up being readmitted."
Essentially, the REIT hopes to fill the gap created by hospitals sending patients home too soon because it makes sense under their current financial model.
"We are a better option than going home and we are also significantly less expensive than hospital care."

The numbers
For calendar 2013, HealthLease posted a profit of $13.4 million compared with a year-earlier profit of $6.2 million. Revenue rose to $40 million from $11.4 million.
The REIT also produced a FFO of 97 cents per unit, an AFFO of 93 cents and a payout ratio of 91.7% of AFFO.
HealthLease went the Canadian listing route two years ago because it was too small to justify a U.S. listing. These days it might be big enough for the States, but it believes it remains too expensive and its payout structure is perhaps best-suited to having an almost exclusive Canadian unitholder base.
"We do pay a very high yield, we are paying north of eight per cent and the Canadian market is a very yield-driven market, much more so than other markets," said White.
Story by: Paul Brent