Hamilton: Rental housing committee to find common ground or be shut down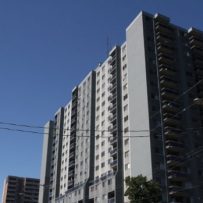 By Samantha Craggs  |  CBC News
The city's citizen advisory committee on rental housing exists to work out the details of a licensing bylaw, says Matthew Green. And, if anyone on the committee doesn't like that, they can head for the door.
Green, a Ward 3 councillor and committee chair, told members of the group on Thursday that the mandate is clear – come to some agreement over a rental housing licensing bylaw. While some committee members argue the bylaw is not a given, Green says the bylaw is a near certainty, and is written right into the committee's mandate.
"If there's no interest in finding common ground then I will probably remove myself from the committee and go back to the business of city hall," Green told the group that includes landlord, tenant and neighbourhood advocates.
"If we wanted to pull fast ones, we could pull this and pass it (at city council planning committee) without you guys even knowing about it," he said.
"We believe the solution is in this room democratically. Nobody elected you guys to this table, respectfully."
So "this committee will be dissolved as soon as it delves back to that space where we start taking snipes at each other."
Green was reacting, in part, to media appearances by Arun Pathak. Pathak is on the committee, and is president of the Hamilton and District Apartment Association (HDAA), a landlord advocacy group. Pathak and Green seem to disagree on the subcommittee's purpose.
Pathak said he doesn't see a licensing bylaw as a certainty.
"I still think that as we go through the process, there are going to be realizations that (a licensing bylaw) isn't going to work," he said. "I believe that will become apparent."
The notion of a rental licensing bylaw is a controversial one dating back to 2013. Under such a bylaw, landlords with buildings of six or fewer units would pay an annual licensing fee to the city.
The concept is aimed at cracking down on unsafe student housing. But landlords and housing advocates packed council chambers to speak against it in 2013. It will shrink an already scant supply of affordable rental units and make more people homeless, they said. And the cost would just be passed on to the tenant.
Disagreement over the group's mandate
In the end, the city decided to take a more proactive approach with its existing rental housing rules and put off the issue until this advisory committee made a recommendation. The committee's mandate reads as follows:
"To work with interested stakeholders to assist with the implementation of an approach to enforcement and legalization of appropriate rental housing including, but not limited to, process, fees and bylaw regulations."
Pathak disagrees that has to mean licensing, and said as much in media interviews after the committee's first meeting in December.
At Thursday's meeting, city staff presented a procedural law saying no member of a citizen advisory committee should speak without submitting the statements in writing, and the mayor and committee chair signing it.
Green said he's "not a censor guy," but he expects Pathak and others to abide.
"If you're making specific reference to this committee in a way that is not in keeping with the mandate of this committee, that becomes problematic."
Everyone is still optimistic
For Terry Whitehead, Ward 8 councillor and committee member, it's a somewhat complex issue. Whitehead is a member of the police services board, and recently had his wrist slapped for comments he made at a recent city council meeting where he said the board's provincial appointees didn't protest higher budgets.
Whitehead said he can speak as a councillor and an individual, just not on behalf of the police services board. He understands this policy to be the same.
"I think what they're saying here is they can have a personal opinion and not on behalf of this committee."
Pathak and Green both agreed on one thing on Thursday. Both said they're feeling a little better about the committee.
"I'm optimistic that things will improve and we'll move forward," Pathak said. "There has to be solutions. There are too many people in Hamilton who are having housing issues. It has to be resolved. You can't just ignore the problems."
At the next meeting in June, the committee will discuss the possibility of a voluntary registry for rental units