Half of 'peak' millennials renting, while 14% still live with parents: survey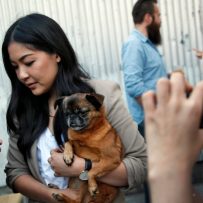 Just over a third of 'peak millennials,' those between the ages of 25-30, already own property but a majority of them are still dreaming of a detached home, according to a new survey released on Thursday.
The online survey of 1,000 peak millennials, completed between June 7 and June 14 2017, found 61 per cent of respondents across the country would prefer to buy a detached home, but only 36 per cent believe that they will be able to afford one.
"The pent up demand for housing from millennials is enormous, with only a third of this large demographic currently owning a property and an overwhelming majority desiring to be homeowners," said Phil Soper, president and chief executive of Royal LePage.
The survey also found 50 per cent of peak millennials are renting with another 14 per cent still living with their parents.
"We expect demand from this demographic to put additional pressure on entry-level housing and investment properties being used to supplement the limited inventory of purpose-built rental buildings," said Soper, whose survey forecasts the peak millennial segment of the population to increase by 17 per cent by 2021 from 2016.
The survey conducted by polling company Leger found that 87 per cent of Canadians aged 25 to 30 believe home ownership is a good investment. It also found 69 per cent hope to own a home in the next five years but only 57 per cent believe they will be able to afford one.
The so-called "bank of mom and dad" will continue to be a factor with 25 per cent of respondents saying they will seek support from their families. The survey also found 75 per cent of peak millennials surveyed would use their personal savings for a down payment.
Almost half of those surveyed believe the federal government's new mortgage regulations brought in last year had an impact on the types of property they can buy. Ottawa imposed rules which force high ratio borrowers, those with less than a 20 per cent down payment, to qualify based on the five-year posted rate which is now 4.64 per cent.
The study found 53 per cent of those surveyed would be willing to spend up to $350,000 on a home. On a national basis, that means on average 2.5 bedrooms with 1.5 bathrooms and 1,272 square feet of living space.
"Many within this age range have adjusted their expectations and have become increasingly open to other property types, provided that they are move-in ready," said LePage, in its release, noting 52 per cent of those surveyed would look to the suburbs when purchasing a property. The number jumps to 59 per cent when raising a family.
"While peak millennials are becoming increasingly inventive in their quest for home ownership, careful attention to urban planning could help to alleviate some of their constraints," said Soper.
twitter.com/dustywallet