GTA NEW CONDO SALES REACH THIRD HIGHEST LEVEL ON RECORD IN Q2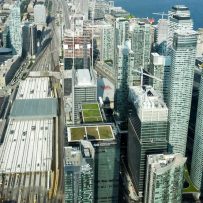 New condominium apartment sales in the Greater Toronto Area totaled 9,001 units in the second quarter of 2021, which was 5.5 times higher than sales during Q2-2020 (1,637 units) and nearly matched the level in Q2-2019 (9,075), representing the third highest quarterly total on record. The 905 region of the GTA once again led new condominium market activity with a 58% share of sales in Q2-2021.
A total of 8,490 new condominium units were launched for presale during the second quarter, which achieved a record high absorption rate of 81%. The new units brought to market in Q2 were priced at an average of $728,160, or $1,110 per square foot (psf) based on an average unit size of 656 sf. New condominiums launched in the City of Toronto were priced at an average of $834,504 ($1,276 psf) and units launched in the 905 region of the GTA were priced at an average of $661,537 ($1,007 psf).
Across the GTA new condominium market, unsold inventory declined 10% year-over-year to 11,716 units — an 11-quarter low and 23% below the 10-year average (15,179 units). Average prices for unsold units available at the end of Q2 in the GTA increased 9% from a year ago to a record high $1,196 psf.
The number of new condominiums under construction in the GTA increased 11% year-over-year to a record high of 86,346 units. There was an additional 22,857 units in active projects in the pre-construction stage. A total of 3,271 units reached completion in the second quarter and 10,938 units were scheduled to reach completion during the second half of the year, which would bring the total for 2021 completions to 18,157 units, representing a 19% decline from the record high 22,473 units that reached completion in 2020.
In the resale market, the 7,790 units sold in the second quarter represented a Q2 record and annual growth of 148% when compared to Q2-2020. The ratio of units sold to total listings during Q2 reached 73%, up from 45% in Q2-2020 and well above the 10-year average of 57%. Average resale condominium prices in the GTA grew 9% year-over-year to $860 psf, reaching above $700,000 for the first time ($707,000). Annual resale price growth was strongest in the 905 region of the GTA at 14% ($708 psf; $628,000), compared to 8% annual growth for resale prices in the City of Toronto ($930 psf; $740,000). It was also found that average condo maintenance fees rose 6% year-over-year to $0.75 psf, or $617 per month based on an average resale unit size of 822 sf in Q2-2021.
"The second quarter showed that the GTA new condominium market not only fully recovered from COVID-19 but also returned to near record high sales volumes. The 905 continued to be a driving force as developers and buyers have shifted to more affordable locations of the region. With inventory approaching a three-year low, expect further upward pressure on new condo prices in the near-term. " 
                                                            –Shaun Hildebrand, President of Urbanation

Story by: Urbanation