GTA condo rentals see dramatic growth in the second quarter of 2014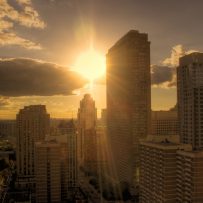 Though the tight low-rise market in Toronto often steals headlines for its price and sales growth, the condo market performed quite well in the second quarter of 2014 with a double digit boost in sales of existing suites. The Toronto Real Estate Board is reporting 6,553 sales in the GTA last quarter, a 10.4 per cent surge compared to the same period last year.
Toronto-proper accounted for 71 per cent of all condo sales in the region. The city counted 4,638 sales in total, a 9.3 per cent increase in sales over 2013. All of the other municipalities also saw a bump in sales, year over-year.
But how many condos are on the market? According to the report, there were 7,286, a 1.5 per cent uptick over the same time in 2013. New listings for the second quarter rose 4.4 per cent year-over-year to 13,742.
As for the condo rental market, TREB reported 7,342 rental transactions in Q2, a dramatic 25.7 per cent jump over 2013. The number of units listed also saw a substantial increase with a 22.2 per cent jump to 12,510.
However, average rents for one- and two-bedroom unit dipped slightly from 2013. The average one-bedroom rent was $1,583, a 1.7 per cent decrease from the year before. The average two-bedroom rent measured  a 1.5 per cent drop to $2,142.
For more details, check out the table below:

Story by: Monika Warzecha