Growth in GTA condo rentals in Q3 pales in comparison to first part of the year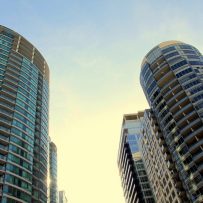 Story by: Monika Warzecha | BuzzBuzzHome 
Although fall may be the busiest rental season of the year, Toronto condos aren't being leased at the same dizzying rates previously seen in the market.
According to Urbanation's Q3 report, 7,132 suites in the GTA were rented through the MLS system. While this was a record high for the third quarter and a 10 per cent surge over Q3 2013, the increase still falls behind previous seasons.
The annual growth rate for the first half of the year was twice as a high with a 20 per cent surge. The third quarter's 10 per cent bump was actually the slowest rate of growth measured in the past two years, according to the real estate research firm.
During the second quarter of 2014, condo rental listings reached their highest peak. This past quarter, the market pulled back and there were fewer new projects coming online and less of a boom in listings.
"Rental activity is heading towards a more sustainable pace as demand levels-out following extremely high rates of growth in previous quarters," said Shaun Hildebrand, Urbanation's Senior Vice President, in the news release.
"With the fundamentals such as immigration, population and employment growth in Toronto recently slowing while condo completions move higher, rents can be expected to stay flat over the next year, although remain supported by still low rates of vacancy."
Rents for condos grew 1.2 per cent year-over-year to an average of $2.44 per square foot. In Q2, the average suite size shrank to 755-square feet, a record low. However, in Q3, the average bounced back, increasing to 767-square feet. The change in size accounts for why rents have largely stabilized after seeing declines in previous quarters. The absolute average monthly rent hit $1,870 this past quarter, an amount in line with the numbers from 2013.