GROWTH IN CALGARY HOUSING STARTS A GOOD SIGN FOR THE ECONOMY, SAY INDUSTRY EXPERTS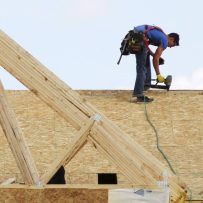 Housing starts in Calgary have increased by about 20 per cent since the beginning of the year, according to the Canada Mortgage and Housing Corporation's latest report, and industry experts say it's a good sign for the economy.
The Housing Supply report for Canadian metropolitan areas released this month found that Calgary saw a higher number of housing starts for all types of homes compared with the first half of 2021.
Single-detached starts increased by 12 per cent in that time period, with most occurring in new developments closer to the city's edge, with the highest concentration near Skyview Ranch and Saddle Ridge in the northeast.
Single-detached starts grew similarly in the city's southeast, where inventories of completed and unsold homes reflect a sustained demand for housing as inventories fell to levels last seen in early 2015.
Apartment starts show the most significant growth, with construction up by almost 30 per cent and taking up a higher-than-average share of total new construction.
"This is pretty interesting because all these apartment starts are essentially what we normally see in hotter times in Alberta when you compare it to 2014," said senior analyst Michael Mak.
"So it of course really reflects optimism that people are expecting more people to come to Alberta and for there to be more jobs available."
Mak said rental apartment units made up a record high of nearly half of total apartment units started so far this year, up from 40 per cent in 2021.
"The rental market in Calgary is much hotter than what we saw in 2019 and 2020, and of course that is from a lot of people moving to the city, which means lower vacancy rates and of course higher prices," he said.
"Rental supply coming onto the market is really going to help alleviate some of these pressures."
Frano Cavar, director of government relations for the Calgary Construction Association, says this is good news — and not only for the industry.
"When things aren't going that well, we see we're the first to feel it. So when we look at housing starts and there's growth of 20 per cent, that means people are coming to the region and there's heightened economic activity," he said.
"All around, it seems like a very good thing, and it's a very positive metric for us and for the industry and probably for the Calgary local economy as a whole."
Cavar said this kind of growth has resulted in a significant increase in hires for the sector already.
"In August 2019, we had about 76,000 Calgarians employed in the construction industry. This year, it was 82,000. So that's a huge, heightened level and represents a 7.8 per cent growth from pre-pandemic levels," he said.
"This tells us that we're seeing the construction industry really rebound."
Story by: CBC News