Green Expectations: Sustainability is a Sought After Amenity for Apartment Communities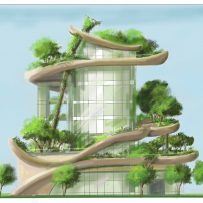 There is no question that our world is changing, and creating a domino effect on any and all industries. And the multifamily industry is no exception. The green tint of sustainability has enveloped the world, and companies and governments are heeding the calls for a better environment in which we work and play.
The multifamily industry has made significant strides to limit the uses of natural resources and offer eco-friendly living experiences, much to the satisfaction of younger renters who may even pay more for green living. The green-focused Gen Y renters and their habits continue to shape the multifamily market, requiring certain efforts  be made. Today's young professionals are far less consuming when it comes to natural resources than previous care-free generations. These are savvy young people looking to make an impact not only in their lives but also on their environment (and doing so while keeping their costs down).
To this point, good sustainability practices have meant tackling the basics like water cost reduction, easy lighting projects, low flow and toilet retrofits and reduction in paper through the use of online portals many property management companies and cities are currently using. In fact, today's residents are looking more and more at an apartment community's sustainability practices as necessary amenities that are non-negotiable.
So, what green efforts will today's renters expect from your apartment community tomorrow?
The Future of Community Sustainability Can be Found in Today's Headlines
Big changes in municipal policies that have made headlines in recent months are a hint of what best practices may be around the corner for property management companies and apartment communities.
These changes are popping up at a time of mandatory EPA energy reporting, new building codes and waste reduction policies. And they lead to another set of burning questions:
Do you need to consider where your community's water is sourced in case of fracking issues in the area?
Is your apartment community bee friendly and is your maintenance team using bee-safe fertilizers and pesticides?
Is there a natural grocery in the area to provide alternative food sourcing for your residents?
Should you start a community garden?
Do you stop using plastic water bottles in your office?
These questions and other issues loom on the horizon. What we do know is that the shape of green is transforming as we sleep in our sustainable apartment communities.
Sustainability Can be Easy
The best possible action to take today is to do that which is easy, saves you money and facilitates the actions required to retain and attract residents. If your company has not taken water consumption seriously, it's time. Good ol' H2O is getting more expensive every day. There are other easy, sometimes free – or at least very cheap – efforts that can be done to further reduce your and your resident's utility bills, while doing a little favor for the local environment at the same time.
Together, we can conserve water by just looking deeper into billing data and taking the easy money by taking actions that can be facilitated by our utility and sustainability partners. But don't stop there. Properties and companies that look beyond the water well will not only do the world a favor but help the bottom line.
The obvious goal is to continue making improvements in our total living experiences and keep NOI even higher in the process.
All that's required is keeping presence of mind – and eyes open – to sustainability.
Story by: Dan Gaddis