Greater Toronto New Home Sales Clock Their Worst April In Decades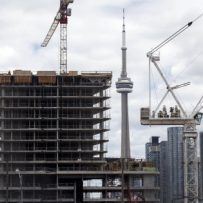 Toronto's very colourful housing market is still ringing up superlatives, just of a different kind these days.
The city has gone from earning descriptions like "record high home sales" a few years ago to superlatives like "biggest price drop in 17 years" in more recent months.
And now add another: The region has clocked the slowest pace of new home sales for an April in this century, and quite possibly the slowest pace in more than 20 years, according to new data from the Building Industry and Land Development Association (BILD GTA).
Greater Toronto saw 1,727 sales of newly-built homes of all types recorded in April, down 65 per cent from the same month a year earlier, when the city's housing frenzy was at a peak.
But it's not just the comparison to the peak of the market that makes the numbers look bad. April's tally may well be the lowest number of new home sales for the month the region has seen since 1995-96. At that time, Toronto's housing market was in the midst of a prolonged slump caused by the bursting of a housing bubble in the early 1990s.
It's not entirely clear whether the GTA has hit that grim milestone, as BILD's sales data only goes back to 2000, and earlier data isn't perfectly comparable. For instance, Greater Toronto's boundaries were different back then.
"While home-buying intentions remain strong, a combination of challenges is keeping many interested buyers out of the new home market this spring," said Patricia Arsenault, executive vice-president of Altus Group, the consulting firm that carried out the research for BILD.
"First-time buyers need to save longer to qualify for a mortgage, and potential move-up buyers are faced with a bigger gap than a year ago between the price of a newly-built home and the price they can get for their existing home," she said in a statement.
While Toronto's condo market had been holding up better than the single-family home market in recent months, the BILD data suggests that may be coming to an end. New condo sales were down 65 per cent in April, and while prices are still nearly 30 per cent higher than a year ago, the momentum is gone: Prices turned downwards recently, falling 0.4 per cent from March to April.
Prices for new single-family homes are in decline — down five per cent over the past year, to an average of $1.15 million. This is perhaps the most remarkable data point in this report, given that BILD and others in the industry have been saying for years that Toronto is suffering from an unquenchable shortage of new detached homes.
That shortage is lessening as buyers disappear from the market — something BILD says is due to the various new government policies introduced into the housing market recently, from tough new "stress tests" for mortgage borrowers to Ontario's "speculation tax" aimed at foreign buyers.
David Wilkes, BILD GTA's president and CEO, says he "doesn't have a crystal ball" as to where the market is headed in the short term, but did note that "we are seeing a number of projects coming online and inventories increasing, so we would anticipate more choice being available for the homebuyer."
In the longer term, he says he remains bullish on the Greater Toronto market because of the region's "structural conditions" — namely, its restrictive development policies coupled with a growing population, which is expected to rise some 40 per cent to 9.6 million over the next 25 years, according to provincial estimates.
"Demand is not going away," Wilkes told HuffPost Canada.