GOVERNMENT TOLD: GET A GRIP ON COVID-19 RENT CRISIS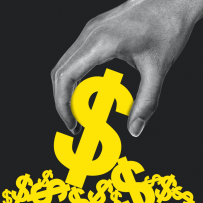 An extraordinary coalition of landlords, housing groups and debt charities have told the government to "get a grip" on the debt "crisis" facing the private rental sector.
The National Residential Landlords Association (NRLA), The Big Issue and Ride Out Recession Alliance, housing charity Shelter, ARLA Propertymark, Nationwide Building Society, and debt charity StepChange issued a rare joint statement on Thursday.
The groups said the UK government had overlooked the rental sector, which was facing mounting debt crisis due to the COVID-19 pandemic. Lockdowns have left many people unable to work, leading to unpaid rental debts. Declining income for landlord has put some at risk of going bust.
"Many thousands of private renters and landlords across the country now face rent arrears due to the impact of the pandemic," the groups said in a joint statement.
"Renters, landlords and letting agents cannot be expected simply to muddle through indefinitely where they face these financial difficulties. The government needs to develop an urgent package to help renters in paying off arrears built since March last year.
"Without further action, debts will continue to mount, making it far more difficult to sustain tenancies and keep renters in their homes after the pandemic."
Last month the NRLA warned that as many as 840,000 people in the UK and Wales could be behind on rent. Average debts are between £250 ($340) to £500 but some face unpaid bills of over £1,000, NRLA's research found.
People have been able to claim government support for lost income through the furlough and self-employed income support scheme, but there has been no financial support specifically targeted at housing.
The government put in place a ban on evictions until mid-January and some restrictions on repossessions will remain in place after that. However, the groups said this did not address the fundamental issue of debts being run up in the first place.
"Ministers have failed to address the core problem of debts which have built despite the financial package put in place so far," the groups said. "Indeed, the Chancellor confirmed that housing benefit will not be linked to the cost of renting for future years."
The Treasury and the Housing Ministry have been contacted for comment.
Story by: Yahoo Finance