Got $2,166 a month? — you'll need it to rent a condo in Toronto, if you can find one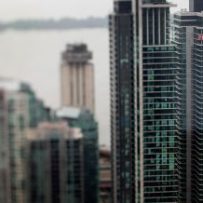 Renting an apartment in Canada's biggest city has become a losing battle as vacancy rates hit all-time lows.
The feat is getting even harder, with supply tight and prices showing no sign of retreating. The vacancy rate in the fourth quarter was among the lowest ever, at 0.3 per cent, according to Urbanation Inc. The average monthly rent for a condominium rose by 9.1 per cent to $2,166 from a year earlier.
That's the second-largest increase since 2010, when Urbanation began tracking the number, after a record year-over-year jump of 12 per cent in the third quarter. Downtown rents surged even more, sending apartment hunters out to the suburbs.
"This has continued to raise the confidence of developers to add more units to the pipeline, a trend that will need to continue in order to meet future housing needs," Shaun Hildebrand, senior vice president, said in a statement. Rental development climbed to the highest level in over 25 years, ending 2017 at 7,184 units under construction.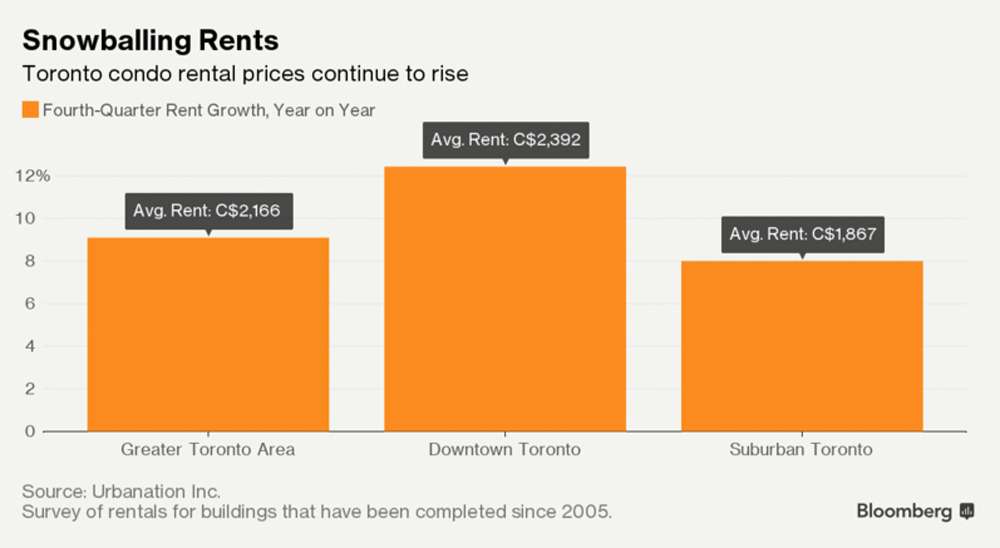 Ricky Ferguson, 26, is feeling the squeeze. He's been looking for a rental in Toronto between $1,000 and C$1,300 with his girlfriend, 23, since October.
"When we first started searching we were in a panic, because my girlfriend was in a situation where her mother was going to kick her out of the house," he said, adding that they've been allowed to stay until they find a place of their own. "My credit score and report are more or less flawless."
On the other hand, the couple has a four-foot-long pet python, Ferguson admitted in a post on a classified-ad site, reassuring prospective landlords that it is harmless as long as it stays in its enclosure.
Toronto's sales market has cooled over the past seven months, but the average price of a home is still $735,021, and new mortgage regulations make it harder for people to borrow. That has pushed many prospective buyers into the rental market, exacerbating its scarcity and costliness.
The market has tightened so much that lease activity as a total percentage of available units fell to 8.3 per cent for 2017, the lowest level of rental turnover since 2013, as high prices and rent control rules lead tenants to stay put. Supply has dropped because of a greater share of units resold as investors take advantage of rising condo prices, said Urbanation. The slowdown in the sales market has mainly been in the detached-home segment; condos have seen double-digit growth.
There was a pause, at first, in rental-development applications with the advent of the new rental rules, but the inventory of proposed projects jumped to 33,787 units last year from 27,737 in 2016 and 10,513 in 2015, according to Urbanation.
Still, "the government must offer incentives to construct new rental properties in order to improve the size and quality of the rental pool," Michael Betsalel, a senior vice president for Jones Lang LaSalle Inc., said in a statement.
"Honestly," said Ferguson, the python-loving apartment hunter, "I've had so much trouble finding a place, I don't think people should be allowed to own properties. Bring on the socialism."