Going green in multifamily construction is fast becoming the standard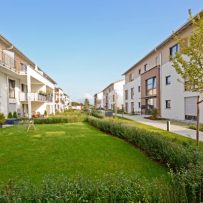 Story by: Tim Blackwell  |  Property Management Insider
The future for going green in new home building and apartment construction looks rosy.
Builders and remodelers seem to be shaking perceptions that green building is too expensive and plan to incorporate sustainable construction practices in future homes. Architects and construction companies that specialize in multifamily say it's not rocket science to go green, and, in some cases, the cost is negligible.
In fact, new and better products in the marketplace are making it easier to reach energy efficiency levels associated with Leadership in Energy and Environmental Design (LEED) certification. Many new apartments are being built right out of the chute with energy efficiency in mind without breaking the bank.
Energy efficient apartments help during lease-ups
A 2015 Dodge Data & Analytics' New SmartMarket Report, created in conjunction with the National Association of Home Builders (NAHB), reports that more than half of home builders believe that 60 percent of the new homes they build by 2020 will be green. These expectations of higher green involvement emerge despite concerns about the cost of building green. Nearly 80 percent of home builders and remodelers say that building green has an incremental cost over traditional construction of 5 percent.
Much the additional cost for energy efficiency lies within mechanical and ventilation systems, which can add $400-$500 per unit. But the higher cost is justifiable, not specifically for getting greater rents, but at lease-up on new apartment buildings, says architect David Hensley of Hensley Lamkin Rachel, Inc.  "I think it's a competitive market," he said. "Even though management groups don't think they justify additional rents, they know that lease-up stabilization is much faster if they sell that story. They may or may not get any more rent, but they definitely rent faster. Where I'm seeing that it is absolutely a must, is the Northwest. Those communities are adamant about sustainability."
Standard practices are approaching LEED certification
Hensley said his firm sometimes gets pressure from developers about costs to incorporate green design into new projects. The standard practice is to add value by creating as tight a building envelope as possible just by using better insulation and energy-efficient features.
"What we found was putting in better windows helped the quality of the building by improving the envelope," he said. "The vinyl windows instead of aluminum windows performed better, the glass performed better. We would do 2 x 6 walls with R19 insulation instead of 2 x 4 with R13. You got better insulation plus you had less stud packs with the 2 x 6 framing. You had less wood. I can sell those things as standard because there is value."
In some cases, new home and apartment construction is approaching LEED energy certification standards just by taking advantage of better products on the market, said one panelist at the 2016 Crittenden Multifamily Conference in March in Dallas. In some cases, units are built to LEED Silver status, one of four certification standards designated by the U.S. Green Building Council. However, some builders are choosing not to pursue certification because of the expense and paperwork and because they don't think the badge means that much to residents. What matters is that the apartment is energy efficient.
Demand for sustainable, healthier living will drive future
While LEED certifications may matter little to renters, the value of green living extends beyond just saving a few bucks on energy and water bills. Dodge Data & Analytics' findings show that consumers want green homes because they promote healthier living, which increases the potential for future growth.Most home builders polled in the SmartMarket report believe that consumers will pay more for homes that have better air quality. Proper ventilation in kitchens and bathrooms and fresher air can reduce poor indoor air quality and pollution, which, according to the Centers for Disease Control, can irritate the eyes, nose and throat and lead to other health issues.
"We have seen the commercial sector of the construction industry focus on the impact of buildings on the health of their occupants in the last few years, but these findings suggest that attention to healthier homes may offer an even higher gain for green in the residential market," said Steve Jones, Senior Director of Industry Insights at Dodge Data & Analytics.