Going Dutch: Perspectives on Toronto planning and design from the Netherlands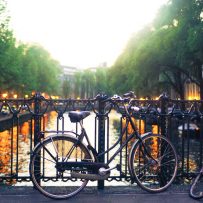 Postcards of Amsterdam display a city that looks like it's got a good grip on how to plan an urban space: it's full of cafes, canals and countless pedestrians and cyclists. Joeri van den Steenhoven, the Director of the MaRS Solutions Lab, chaired a panel discussion on May 7th tackling urbanism in Toronto with special guests from the Netherlands.
"A Dutch perspective on Toronto's future, urban planning and design" brought together Maarten Hajer, the head of the Dutch National Institute for Strategic Policy Analysis, Daan Roosegaarde, a social designer, and Jennifer Keesmaat, the chief planner of Toronto. Keesmaat originally hails from Hamilton, though her parents are from the Netherlands and she's traveled throughout the country.
While topics such as the 3D printed house recently unveiled in Amsterdam and digital cities kicked off the discussion, Keesmaat pointed out that "technology can't replace great infrastructure."
One of her main concerns was how to ready Toronto's infrastructure in light of changing weather patterns. Last summer, a major summer storm caught the city off guard with floods and the severe winter downed trees, froze pipes and knocked out the power for thousands of residents.
Hajer pointed out that planners in cities around the globe also need to grapple with these big changes: the United Kingdom and the Netherlands both faced serious flooding last year as well. Gone are the days when urban planners set out 100-year long plans for cities. Faced with a constantly changing world, the focus should be on adaptive planning.
"We need tech to help find ways to reconnect to nature in the urban world," he said.
Another hot topic: housing. As people flock to cities and Toronto continues to build, the Dutch experts had a few interesting insights about Toronto's condo surge.
Although it's estimated that nearly 50 per cent of housing in Amsterdam is social housing, market-value homes have seen their prices skyrocket. As the urban lifestyle becomes more prized and exclusive, many people are being squeezed out of major cities such as London, Paris and Toronto.
Hajer said, "A thriving city needs to build." If Amsterdam wants to maintain a balance of affordable homes, he suggests they embrace more high-rises. For Toronto, he suggested the city focus on building up more work spaces, hospitals and schools outside the main core to reduce transit stress. That way, fewer people will need to commute every day into the centre of the city.
Keesmaat also brought up re-development. As new condos remain concentrated within specific neighbourhoods of the city, she voiced her concern about people moving into the units but not having access to things like park space. One way Toronto has created more public spaces is through a recent initiative called privately owned public spaces.
The talk made clear that though Toronto faces a number of unique challenges, cities around the globe are also grappling with big urban issues such as creating the right balance of housing and creating resilient communities.