GM Plans to Close Canadian Plant in Global Overhaul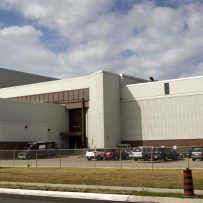 A car plant that General Motors Co. has operated for 65 years in Canada could be on the verge of shutting down as part of what a union says will be a global overhaul of the automaker's operations.
The company will announce Monday that it's ending production at its plant in Oshawa, Ontario, two people familiar with the plans said, speaking on condition of anonymity. Unifor, Canada's autoworkers' union, said it's been told there is no car production assigned to the factory beyond next year, though it raised the prospect of talks to preserve jobs.
"We have been informed that, as of now, there is no product allocated to the Oshawa assembly plant past December 2019," Unifor said in a statement late Sunday. "Unifor does not accept this announcement and is immediately calling on GM to live up to the spirit" of a contract agreement reached in 2016, the union said.
Unifor said it received notice Sunday from GM that the company "will make a major announcement tomorrow that will impact its global operations." The union said it doesn't yet have complete details and would speak with company representatives on Monday.
Barra's Retrenching
GM Chief Executive Officer Mary Barra has spent the last several years shrinking the company down to focus on regions and products where it's most profitable to improve earnings and free up resources to develop self-driving technology. She sold off the company's European divisions Opel and Vauxhall to France's PSA Group last year and has retrenched from key markets including India and Russia.
A product overhaul may be next. Sales of bigger sedans such as the Chevrolet Impala and Cadillac XTS built in Oshawa have been plunging as demand has shifted to SUVs, and GM's rivals Ford Motor Co. and Fiat Chrysler Automobiles NV have already announced plans to kill off several passenger cars from their lineups.
Reuters reported Monday that GM will significantly cut car production in North America and stop building some low-selling car models, citing an anonymous source.
Late last month, Barra, 56, offered buyouts to about 18,000 salaried workers in North America who have been with the company at least a dozen years. GM may consider involuntary cuts if the portion of people who accept the offer isn't big enough.
The Oshawa plant employs about 2,200 people, according to the union, and was once one of the largest carmaking facilities in Canada. David Paterson, a spokesman for GM in Canada, declined to comment. The potential plant closure was reported earlier by CTV News, which didn't say where it got the information.
Any closure would mark the end of more than a century of carmaking in Oshawa, a city about 60 kilometers (36 miles) east of Toronto. Detroit-based GM started operating the massive plant in 1953.
2016 Contract
The survival of the factory was a key issue in the automaker's 2016 labor talks with Unifor, which represents tens of thousands of autoworkers in Canada. As part of that settlement, GM had agreed to spend some C$400 million ($302 million) in the Oshawa operations. The union hailed the agreement at the time as part of an effort to stem the loss of jobs to Mexico.
According to GM's website, it has two lines in Oshawa. One makes the Chevrolet Impala and Cadillac XTS cars, while the other builds the Chevrolet Silverado and GMC Sierra pickup trucks. GM also operates Canadian plants in Ingersoll and St. Catharines, Ontario.
The plant had employed 23,000 workers as recently as 1983. Production in Oshawa and other car centers near Toronto has dwindled in the last few decades as more North American production shifted to lower-cost centers in Mexico and the U.S.