"Ghost" Homes Across Canada: A Decade of Change in 150 Cities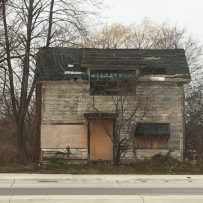 With over 1.3 million empty and temporarily occupied homes in 2016, Canada's housing problem extends beyond foreign buyers jacking up prices and unaffordability taking over major cities. Speculation and short-term renting are the main culprits behind the high vacancy rates in places like Toronto and Vancouver. In many other cities across the country, falling population and fluctuations in the local economy drive the number of vacant homes up.
In 2001, when the government first started collecting data on occupied dwellings, 7.8% of the total homes in the country were vacant. In 2006, the vacancy rate increased to 8.4%, only to reach 8.7% in 2016.
Per the most recent available data, over 66,000 homes are sitting empty in Toronto, around 64,000 vacant homes are spread across Montréal, while Calgary, Ottawa, and Edmonton all have over 20,000 vacant properties. Of Canada's largest cities, Vancouver has the highest share of empty dwellings: the 8.2% rate translates into about 25,000 vacant homes.
To gain some perspective, vacancy rates in the US never climbed higher than 2.8%, according to the Federal Reserve Bank, while Canada's empty homes represent a whopping 8.7% of the market, per 2016 data.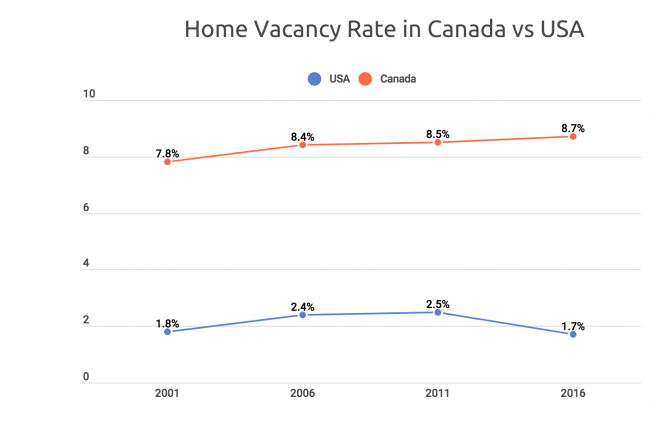 So which are the Canadian markets that have seen the most dramatic changes in vacancy rates? We analyzed demographic and housing data for Canada's 150 largest cities, in the decade between 2006 and 2016 (the most recent available data), which reveal striking differences at the local level. For the complete list of cities and data points, you can check the table at the end of the study and use the filters to rank the cities according to province or to the most and least significant changes in vacancy rates and in population.
Of Canada's 10 largest cities, Winnipeg saw the biggest jump in the number of empty homes (42.7%), followed by Montréal (36.3%) and Edmonton (32.5%).
Vancouver saw its number of empty dwellings go up 9.6% in the decade between 2006 and 2016, while Toronto's vacancy rate actually decreased by 4.7%.
The most significant increases in the number of vacant dwellings of all the cities in the study were in Grande Prairie (+181.4%), Leduc (+172.4%), and Fort Saskatchewan (+146.8%), all in Alberta; the biggest drops were seen in Ajax, ON (-53.1%), Burlington, ON (-52%), and Port Moody, BC (-50.4%).
The highest vacancy rates in 2016 were in Kawartha Lakes, ON (19.%), Collingwood, ON (17.7%), and Wood Buffalo, AB (16.4%), while the lowest vacancy rates in 2016 were in Sainte-Julie, QC (1%), Orangeville, ON (1.2%) and Boucherville, QC (1.4%).
In BC, North Cowichan and Port Moody boast the biggest changes in vacancy rates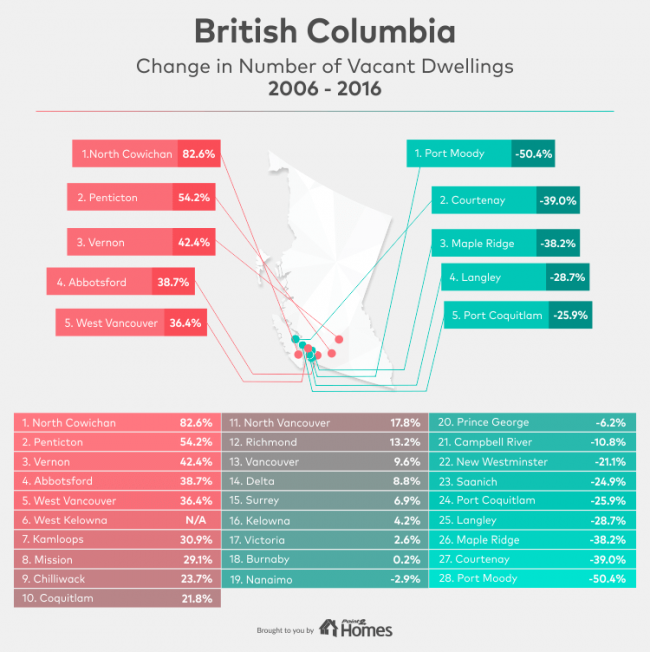 With an 82.6% increase and a 50.4% drop respectively, North Cowichan and Port Moody are the province's extremes. But topping the list with the highest vacancy rate in 2016 is West Vancouver, with 9.2% of its total dwellings vacant, up from 6.7% in 2006. Vancouver follows suit, with an 8.2% vacancy rate, up from 7.5% in 2006.
Although all the cities in BC have seen their total population go up, vacancy rates decreased only in 10 of the 28 cities included in the study. A sign that policymakers are starting to see this phenomenon as a red flag, Vancouver city council approved a tax on empty homes.
Starting with 2018, owners who bought homes that are not their main residences or that aren't rented out for at least six months of the year have to pay the equivalent of 1% of the home's value. Gregor Robertson, former Mayor of Vancouver, stated that the tax is aimed at owners who view real estate as an investment opportunity:
Vancouver has been in this crisis for over a decade […] We had ramped up our rental housing supply, [and] focused on supportive housing for our most vulnerable population, but the pressure in the real estate market continued to escalate dramatically. The influx of foreign capital wasn't well regulated by our federal government. The result was untethered speculation, jacked-up prices and flipping in the local real estate market.
The tax was expected to bring in around $38 million last year alone, but officials are not sure if its main aim, which was to encourage owners to rent out their empty homes, was reached.

The Prairies: 3 cities in Alberta see highest spikes in vacancy rates in Canada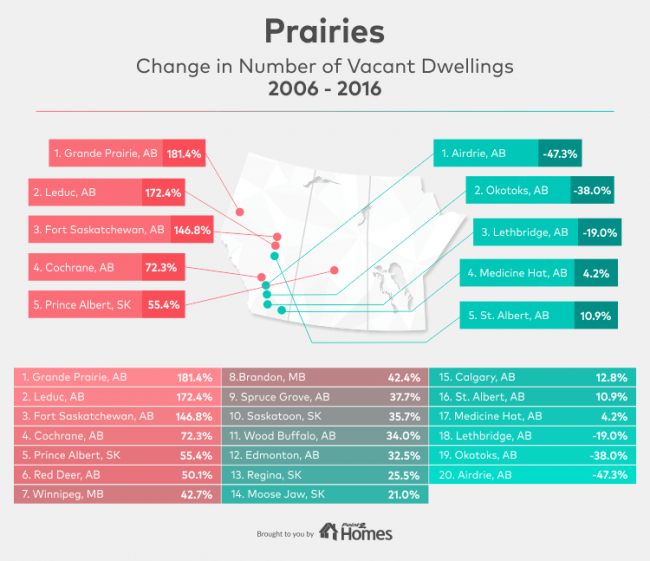 Alberta is home to the only 3 cities where the number of vacant homes more than doubled in the decade between 2006 and 2016: Grande Prairie, Leduc, and Fort Saskatchewan saw the biggest increases in the share of empty homes in the country. This jump in the number of vacant properties, and especially newly-built vacant properties across Alberta is mostly due to the uncertain economy and harsher labour market conditions, and to a smaller degree to higher mortgage rates and tougher mortgage financing rules.
If Grande Prairie saw the most significant increase in vacancy rates, Airdrie recorded the sharpest drop in the region (-47.3%), going from a 6.2% to a 3.3% vacancy rate. The cities with the highest vacancy rates in 2016 were Wood Buffalo in Alberta (16.5%), Grande Prairie, AB (9.6%), and Prince Albert in Saskatchewan (8.7%). At the other end of the spectrum, the cities with the lowest vacancy rates were Okotoks, AB (1.8%), St. Albert, AB (2%), and Airdrie, AB (3.3%).
That homebuyers no longer feel confident enough to buy is apparent from historical trends, but the current situation is proof of that as well. According to ATB Financial, the number of vacant new homes in Edmonton has reached a record high, with 1,941 homes completed but not sold; in Calgary, that number reached 891 in January. Moreover, concerns about a new, possibly milder recession hitting the province again are only adding fuel to the housing and homeownership fire.
Quebec's Baie-Comeau and Saint-Georges saw the biggest changes in the province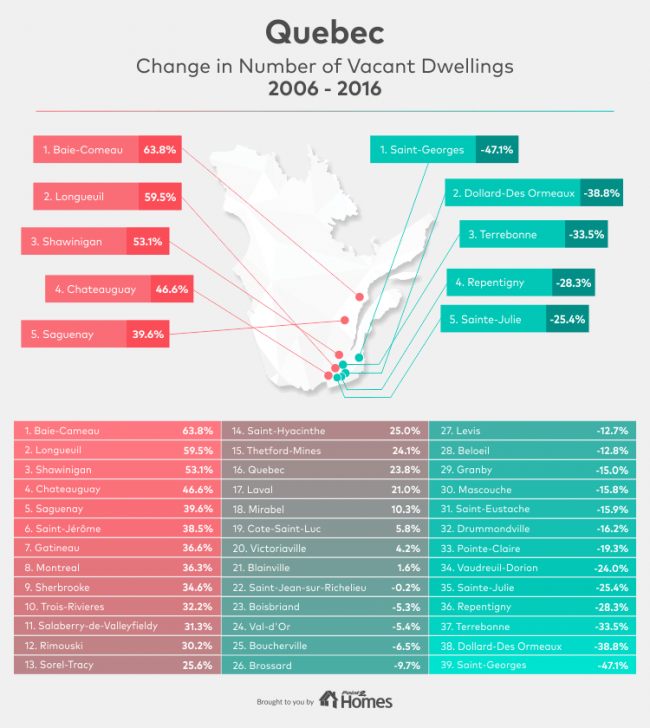 In Baie-Comeau, the vacancy rate reached 5.4% after a 63.8% increase, while in Saint-Georges the rate went from 5.4% to 2.9%, representing a 47.1% drop. According to 2016 data, the cities with the highest share of empty homes in the province were Shawinigan, Sherbrooke, and Montréal, while Sainte-Julie, Boucherville, Repentigny, Beloeil, Terrebonne, and Blainville all had vacancy rates under 2%, signaling better occupancy.
The two cities with the most significant spikes in population are Vaudreuil-Dorion (a 47.8% increase between 2006 and 2016) and Mirabel (45.9%). Across the province, 3 cities saw their total population go down in the decade between 2006 and 2016: Shawinigan (-4.9%), Baie-Comeau (-4.5%), and Thetford-Mines (-1.2%).
Québec posts the lowest homeownership rates in Canada, and the cities in the province have always leaned towards renting rather than buying. And this particularity of the province doesn't show any signs of changing, especially in Montréal. Although almost half of households are renters, there is also a staggering number of vacant dwellings in the city as well: in 2016, close to 850,000 homes were empty. According to the latest report from the Canada Mortgage and Housing Corporation,
The number of properties for sale on the resale market has been steadily declining for three years in Greater Montreal. The current strong market, where newly listed properties sell the first time rather than being relisted for sale more than once a year, is one cause. The low level of single-family home and condominium construction in recent years is another. Lastly, significantly fewer developers are engaging real estate brokers to sell their new condominiums.
In Ontario, 14 cities saw significant drops in vacancy rates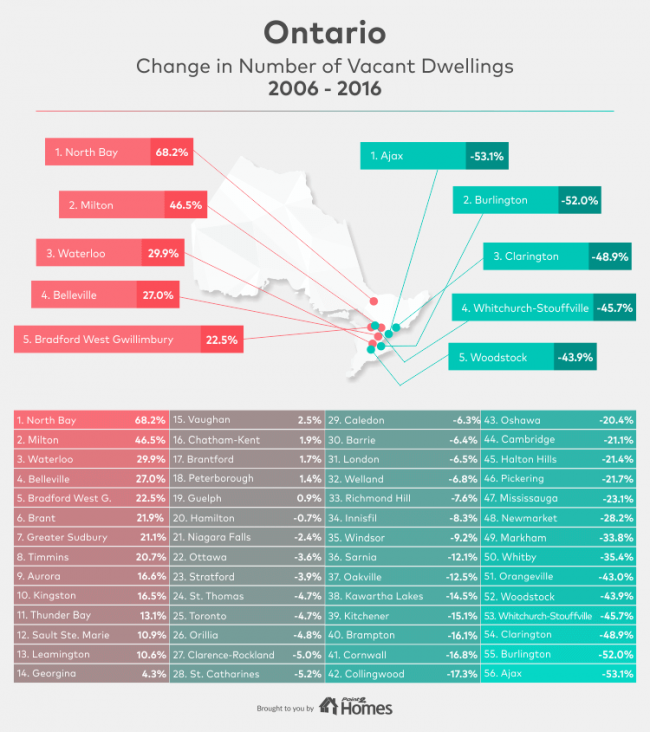 Of the 56 largest cities in Ontario, 16 have reached a vacancy rate under 3% in 2016. At the other end of the spectrum, 5 cities have vacancy rates above 10%, and in Kawartha Lakes, almost 20% of the total number of private dwellings is unoccupied. When it comes to the most significant changes in the number of empty homes in the province, North Bay and Milton lead the way with the biggest increases, while Ajax and Burlington both have seen significant decreases in number of empty homes.
The cities with the most impressive increases in population are Milton (104.2%) and Whitchurch-Stouffville (87.9%), while the most significant drops in population were in Chatham-Kent (-6%), North Bay (-4.5%), and Leamington (-4.3%).
In Toronto, according to hydro data, 15,000 to 28,000 are sitting empty. Ana Bailao, Toronto City Councillor, states this is approximately the number of new units that come to market in a year, so unlocking the potential of these dwellings has become one of the city's major goals. This is why, following in Vancouver's footsteps, Toronto is considering implementing its own empty homes tax.
Atlantic Canada's largest cities all have vacancy rates over 5%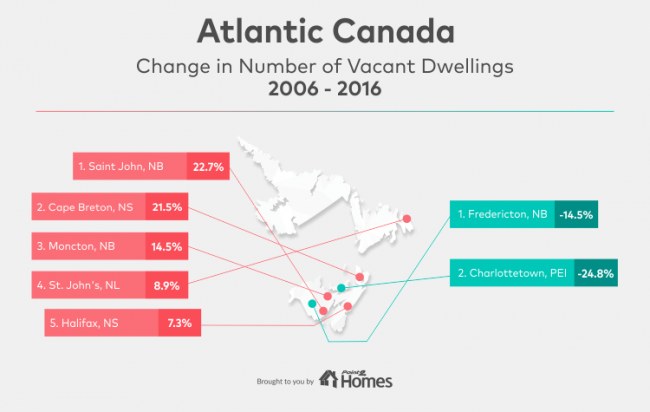 Saint John, NB and Charlottetown, PEI have seen the biggest changes in vacancy rates in ten years; Saint John saw a 22.7% increase, while Charlottetown saw a 24.8% decrease.
Fredericton, NB had a 15.2% increase in population, and also the second-biggest drop in vacancy rates: -14.5%.
Looking at what the future has in store for the Maritime Provinces, along with Newfoundland and Labrador, CMHC's report states:
All else being equal, multi-residential housing completions in Atlantic Canada's urban centres are forecast to decline over the next 20 years. This expected decline for apartments, semi-detached and row housing follows the slowing pace of household formation from the last five years (2012-2016). […] multiples activity over the next ten years could decline from 3,373 completions per year (between) 2012-2016 to between 1,590 and 3,085 completions per year over the period 2017-2021 and 650 to 1,620 completions per year for the period 2022-2026.
What the future holds
Although the decade from 2006 to 2016 saw profound changes and fluctuations in vacancy rates at the local level, both current analyses and future market prospects point to more balanced conditions overall. According to Canada Mortgage and Housing Corporation's 2018 Housing Market Outlook,
[…] housing starts are forecast to slow down gradually over the 2018 to 2020 forecast horizon, moderating from the 10-year high recorded in 2017 to levels more in line with a moderating economic outlook and demographic conditions.
Story by:

Point2 Homes is an international real estate search portal, a division of Yardi Systems Inc. Our original research, insights and in-depth analysis of the real estate market have been featured in major media publications across Canada and the US.