Gatineau Housing Starts Increasingly Favour Apartments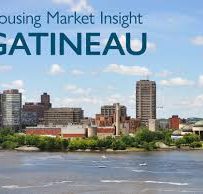 Houses (single-family, semi-detached and townhouses) have accounted for a decreasing share of Gatineau housing starts since 1990. Apartments, meanwhile, have accounted for an increasing share.
Our latest Housing Market Insight for Gatineau covers trends in residential construction in the area since 1990. More specifically, it looks at the proportions of housing starts accounted for by apartments and houses and how these proportions changed over time. It also examines the reasons for the changes.
Population growth the key driver of residential construction
In Gatineau, residential construction fluctuates annually depending on various factors. In the long term, though, population growth is what dictates the need for new homes. In fact, from 1987 to 2016, the average annual net household formation was nearly the same as the average annual number of housing completions.
When broken down into housing types, we see that residential construction for apartments and houses followed their own trends:
During the 1990s, houses accounted for about 80% of the housing starts in the Gatineau area. The proportion then decreased, while the proportion accounted for by apartments increased. Since 2016, houses have represented less than 50% of housing starts.
This change was even more pronounced in the Aylmer sector of Gatineau. Between the last two censuses, the proportion of households living in apartments there rose from 20% to 27%. In the rest of the Gatineau area, this share remained stable, at 37%.
Demographic and policy changes support increased demand for apartments
The transition in the patterns of housing starts began around 1998 and was brought about by a number of factors.
Gatineau is the census metropolitan area (CMA) with the strongest population growth in all of Quebec. This population growth is concentrated at the younger and older household age groups. Because young people and seniors are the main sources of demand for apartments, Gatineau's population growth has encouraged the construction of this housing type.
Additionally:
the proportion of one-person households has increased in Gatineau, from 26% in the early 2000s to 31% in 2016
since the early 2000s, there has also been an increasing need for affordable dwellings in the Gatineau CMA
urban land use and development policies designed to increase density came into force in 2000.
These factors all boosted the need to build smaller units, such as apartments, rather than larger ones, like houses.