FRPO Open House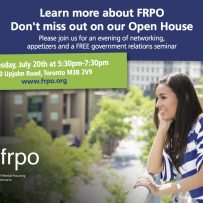 Do you want to learn more about FRPO and how we can help you? Please join us at our Open House on July 20th for an evening of networking, appetizers and a free Government Relations seminar presented by FRPO President; Scott Andison. 
This event is open to all FRPO members as well as potential members. This is the perfect opportunity to meet the FRPO staff as well as find out ways that FRPO can assist you through our various member benefit programs and services.
All attendees will be entered into a draw for a $50 gift card. There is free onsite parking as well.