From dairy farmers to B.C. wineries, the winners and losers of USMCA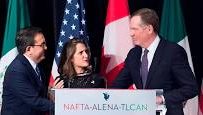 Leaders of Canada and the United States are celebrating the new United States-Mexico-Canada Agreement reached late Sept. 30, with the two sides touting the tentative deal as significant elections in both countries loom.
But whether this will be positive for everyone impacted by the pact, which is expected to be signed next month and ratified after all three countries' lawmakers sign off, remains to be seen.
Below, BNN Bloomberg breaks down the expected winners and losers of the new agreement.  
WINNERS
U.S. dairy farmers
Under the new deal, the United States will be granted greater access to Canada's dairy market. This is welcomed news by U.S. dairy producers – who are facing an oversupply issue – as they'll be able to sell more of their products north of the border.
Canadian auto industry
The U.S. stood down on repeated threats to impose tariffs on Canadian auto imports as part of the free-trade deal, causing shares of auto parts makers such as Magna International and Linamar to rise on Monday. Unifor National President Jerry Dias told BNN Bloomberg in an interview auto workers should be "absolutely thrilled" with the deal and that the Canadian auto industry will be "thriving for generations to come."
Stephen Poloz
The prospect of the new pact has alleviated an ongoing concern for Bank of Canada Governor Stephen Poloz: trade uncertainty. Economists predict Poloz will take a less cautious approach to future rate hikes as a result of the new deal. The implied probability of the central bank raising rates 25 basis points to 1.75 per cent at the Oct. 24 meeting stood at 96.5 per cent as of Friday at 1:40 p.m. ET, a jump from 90 per cent a week earlier, two days before the deal was announced.
U.S. drug companies
The new deal would extend patents on biological drugs to 10 years from eight, which means there will be an additional two years before cheaper generic drugs can be accessed for those drugs.  
Chapter 19
Keeping the dispute resolution mechanism, known as Chapter 19, in place was a red line for Canadian negotiators and a big win for Prime Minister Justin Trudeau. Canada had to make some concessions on its dairy sector in exchange to keep the provision, which allows independent panels to solve disputes involving companies and governments.
USMCA and online shopping: How companies should pivot their strategy to benefit
Tony Chapman, CEO of TonyChapmanReactions.com, joins BNN Bloomberg to discuss how the new trade deal between Canada, the U.S. and Mexico impacts e-commerce and what can companies can do to take advantage.
Online shoppers in Canada
Under the USMCA, the duty-free shopping limits for Canadians will be lifted. Canada's new so-called de minimis level will rise to $150 from $20 for customs duties, and $40 for sales taxes, providing a price break for Canadians who purchase items from U.S. online retailers.
LOSERS
Canadian dairy farmers
Canadian dairy farmers were quick to speak out against the new trade agreement, with one calling it a "slap in the face" to producers to who work hard to manage supply. As part of the deal, Canada will eliminate its Class 7 milk policy that makes it cheaper for processors to buy domestic supplies of ultra-filtered milk, a concentrated ingredient used to boost protein content in cheese and yogurt. However, Foreign Affairs Minister Chrystia Freeland said Monday there will be appropriate compensation for supply-managed farmers in Canada, which will be decided in the coming months.
Canada's steel and aluminum industry
The 25-per-cent tariffs U.S. President Donald Trump imposed on Canadian steel and aluminum imports earlier this year will remain in effect for now. Trump told reporters Monday the tariffs are a separate issue from USMCA, but is open to a new agreement on metals.
B.C. wine industry  
As part of the new trade deal, Canada has agreed deal to roll back a series of retail wine restrictions amid U.S. demands, which were also heard by the World Trade Organization. Three years ago, British Columbia introduced a new rule that allowed only wine from B.C. wineries to be sold on grocery store shelves. That will change Nov. 1, 2019, when B.C. will modify its requirement that retail stores only sell imported wines through a "store within a store" rather than on the same shelves as domestic wine bottles, increasing the competition for local wine producers.