FREE RENT OFFERED AS MOVE-IN INCENTIVE AT THESE TORONTO PROPERTIES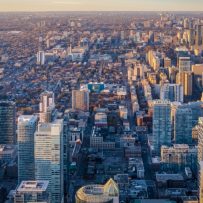 While Toronto continues to be an expensive city to live in, the COVID-19 pandemic has resulted in more rental units becoming available in the market.
And with lack of jobs, along with short-term rentals going back into the market due to lack of tourism, Rentals.ca has highlighted some properties in and around Toronto offering move-in incentives like free month's rent.
"The pandemic health concerns, coupled with reduced employment and hiring activity, has resulted in less immigration and reduced in-migration into the GTA. These consequences of the pandemic have reduced rental demand at the same time as supply is increasing via short-term rentals and high-rise apartment completions," reads a report by Rentals.ca.
While there generally are never incentives like free rent in Toronto, it's something property managers have done due to vacancy rates being so low.
The team at Rentals.ca told Daily Hive that many things are at play here. "Renters are being cautious in moving because of the pandemic and uncertainty with their jobs and the economy. Also, there are more units available for a variety of reasons. One is that we are seeing more furnished units on the market because some short-term rentals are being converted to long-term rentals."
Recently, the City of Toronto saw rents dip 0.3% month over month from $2,387 on average in April to $2,380 in May, following a more steep drop of 3.9% the month before.
Average rents have declined by 6% to 10% annually in North York, Markham, Mississauga, York, Oakville, and East York.
"Rental rates may not fall further, because demand for rentals is expected to pick up as the lockdown ends, recent graduates start their careers, people cooped up with family or roommates look for their own place, and the border opens up to foreign students, temporary residents, contract workers, and immigrants," said Matt Danison, CEO of Rentals.ca.
So if you're in the market looking for a new spot, here are Toronto rental units offering incentives, according to rentals.ca:
18 Erskine Avenue – First two months of rent free at 18 Erskine Avenue, conditions apply.
191 Sherbourne Street – A move-in summer special is offered on select 1-bedroom units.
320-342 Avenue Road – Resident insurance included in all new leases, plus a free month on a 12-month lease.
411 Duplex Avenue – Move in by August 1 and receive one month free rent ($1950).
25 Selby Street – One month rent free is offered up at 25 Selby.
561 Sherbourne Street – Offering one free month, one year of free parking, and a $500 gift card. Short-term leases also available.
571 Prince Edward Dr N – Etobicoke, ON – Okay, just outside of Toronto, but this property is offering two months free rent on new leases if signed by end of July.
25 Montgomery Avenue – One month free rent at this property.
33 Davisville Avenue – This Davisville property is offering no last month's rent and a move-in bonus.
45 Dunfield Avenue – Move in this summer and get one month free, plus get a free air-conditioner for your suite.
Story by: Daily Hive