Four Canadian companies make massive investments in US real estate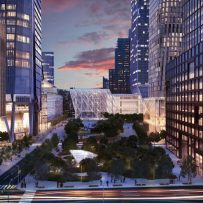 Story by: Monika Warzecha | BuzzBuzzHome 
While snow birds may be a big part of the American real estate market, Canadian companies are also making headlines for writing big cheques for massive properties south of the border.
Adventus Realty Services, a Vancouver-based company, recently picked up three office buildings near O'Hare airport in Chicago for the tune of $95 million. Chicago Business is reporting that once completed, the purchase of 617,616-square-feet of commercial space would be the biggest ever acquisition by the company.
But there have been even bigger property deals made by Canadian companies. Late last year, Jones Lang LaSalle released a report suggesting Canadian developers, investors and pension funds have purchased more direct real estate outside of Canada in 2013 than inside. As far as location is concerned, Canadian bigwigs generally prefer cities such as Chicago, Dallas, Denver, San Francisco, Phoenix, Seattle and Sacramento.
Want to see some of the biggest real estate transactions to date? Check out our list:
Mattamy Homes buys a massive piece of Florida
In June, the Canadian homebuilder said it had closed a deal to purchase 9,600 acres of land in southwest Florida. The parcel of land is the largest Mattamy has ever bought in one go and is bigger than Disneyland, Central Park and the town of Aspen, Colorado. The price tag? $86.25 million. The builder has plans to build about 15,000 homes on the land over the next 20 to 25 years.
Oxford Properties takes Manhattan
The Hudson Yards Redevelopment Project (pictured above) is an enormous scheme to revive Manhattan's far West Side. At the heart of the $20 billion venture, there are plans afoot to create a mixed-use, master plan development known as Hudson Yards. It's currently the largest private real estate development in American history and the biggest development in New York City since the Rockefeller Center. Related Companies has teamed up with Oxford Companies, a Toronto-based firm, to deliver 17 million-square-feet of commercial and residential space.
Tricon turns to the Sun Belt
Early this spring, Tricon announced its intention to spend about $750 million on communities of manufactured homes in the Sun Belt states of Arizona, Florida, and California. The move to invest in upscale mobile parks in the United States is largely based on changing demographics. Chief Operating Officer Gary Berman explained the move to Bloomberg News: "If you look at the US population, it's definitely growing, it's definitely getting older, and it's probably getting poorer. What single-family rental and manufactured housing do is they provide very affordable housing for people."
Ivanhoe snaps up tech space
Ivanhoe Cambridge, a subsidiary of a Quebec pension fund, acquired an astonishing 73 office buildings in Silicon Valley with its partners, affiliates of TPG and DivcoWest, two American investment firms. Altogether, the firms took over 6.4 million-square-feet of leasable space for a price tag of $400 million.
Story by: Monika Warzecha | BuzzBuzzHome