Fort McMurray set for biggest home building boom in decades: CMHC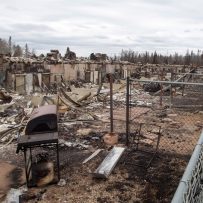 Story by: TAMSIN MCMAHON, The Globe and Mail
Fort McMurray's fire-ravaged housing market could see the largest building boom in decades as work begins on restoring thousands of homes, Canada's federal housing agency predicted.
However, industry experts say it's more likely to take several years before the community returns to normal.
Housing starts could soar to 2,500 as large-scale efforts get under way to rebuild little more than two months after wildfires swept through the country's energy heartland in Alberta, Canada Mortgage and Housing Corp. said in a new report.
This is a catch-all ASF view; only displays when an unsupported article type is put in an ASF drop zone
"This is expected to be the highest new home construction activity Fort McMurray has seen in 20 years," CMHC market analyst Tim Gensey wrote. He added that much of the rebuilding isn't likely to start until next year.
A wildfire in May destroyed nearly 10 per cent of the structures in Fort McMurray, an estimated 2,400 buildings. Of those, nearly 1,800 were single-family homes, many of which were concentrated in three of the community's more established neighbourhoods: Beacon Hill, Abasand and Waterways.
The rebuilding effort could do much to reverse the sagging fortunes of Fort McMurray's housing market, which had suffered from the drop in oil prices that began in late 2014.
In the months leading up to the fire, sales had plunged to half the five-year average while average resale prices in the first quarter were down 17 per cent from the same period two years earlier. Builders had started construction on just 13 new residential units. The community's rental vacancy rate had soared to nearly 30 per cent.
Most of the city's rental stock was spared the worst of the blaze and CMHC said it expects returning homeowners to rent while they wait to see when – or if – their homes can be rebuilt, helping fill the glut of empty apartments.
Little more than two months after the wildfire forced 88,000 residents to evacuate the community, about 72,000 have returned, said Jordan Redshaw, public information officer for Regional Municipality of Wood Buffalo, which encompasses Fort McMurray.
Municipal crews have also repaired much of the damage to underground infrastructure such as sewage systems and have restored water services to most neighbourhoods. Those most affected by the fire remain under a boil-water advisory and a moratorium on development until they can be deemed safe by the province's chief medical officer of health.
A large-scale effort to begin cleaning up the neighbourhoods where most homes have been destroyed was rolled out late last week. So far, 600 homeowners have signed up for the service, which was organized by groups of property insurers. The municipality said it hopes to have the most heavily affected areas cleared by the end of September.
The wildfire is considered the most expensive natural disaster in Canadian history, costing insurance companies more than $3.5-billion, the Insurance Bureau of Canada said. Insurers have received nearly 23,000 claims from the fire, most of that related to smoke and water damage.
Crews have removed about 12,000 fridges and freezers, which were taken to landfill to be degassed and crushed. The cleanup alone is a complex exercise as many houses were so badly damaged that crews will even have to demolish the basements.
"Literally, you're taking it down to almost a greenfield site again and beginning to rebuild, in some instances, entire subdivisions," said Bill Adams, vice-president of the Western and Pacific region of the Insurance Bureau of Canada.
The Fort McMurray fire wrought far more devastation than the fire that swept through Slave Lake in 2011, destroying more than 400 homes, which took more than a year to rebuild.
Fort McMurray's rebuilding is expected to be lengthy and complex. Recovery efforts will likely be compounded by the economic downturn, given that many home builders and construction workers had already left town before the fire, said Jim Rivait, chief executive of the Alberta office of the Canadian Home Builders' Association.
Mr. Rivait estimates capacity to build between 500 and 600 homes a year. "We've never seen this scale before, so you're charting new territory all the way," he said.
The province is also aiming to avoid some of what officials call the "chaos" of the Slave Lake fires, where some homeowners were devastated twice: First, when they lost their homes to the fire and then when the developers they hired to rebuild their properties absconded with their money, leaving behind half-finished homes and unpaid bills.
Alberta has required eligible builders in Fort McMurray to register and provide detailed information about their business history and finances. So far, seven builders have registered, according to the government's website.