For Calgary's housing market in 2015, CREB predicts prices will inch up while sales fall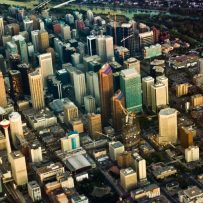 Story by: Michael Aynsley  |  BuzzBuzzHome
Calgary-area home sales are expected to fall four per cent this year while prices remain relatively stable with a modest increase of 1.58 per cent, said the Calgary Real Estate Board in its annual forecast.
Although sales levels are expected to dip, CREB says previously tight conditions throughout 2014 indicate that rising supply would push the market into more balanced conditions, supporting price stability in 2015. However, the board warns there are multiple risk factors attached to the forecast.
"The housing risks lie mainly with employment levels and net migration, both of which can be more severely impacted by a prolonged period of weakness in the energy sector," said CREB chief economist Ann-Marie Lurie. "There is also the impact that energy prices have on consumer confidence. If energy prices stay low throughout the year, concern regarding job stability could cause consumers to delay unnecessary changes regarding housing."
The warnings about the energy sector and how it will impact the housing market echo those included in Royal LePage's 2015 housing forecast, also released Wednesday.
Back to CREB's report, the group says while sales activity is likely to ease in 2015, it remains consistent with long-term levels. By comparison, sales in 2014 were nearly 15 per cent higher than the long-term trends for the city.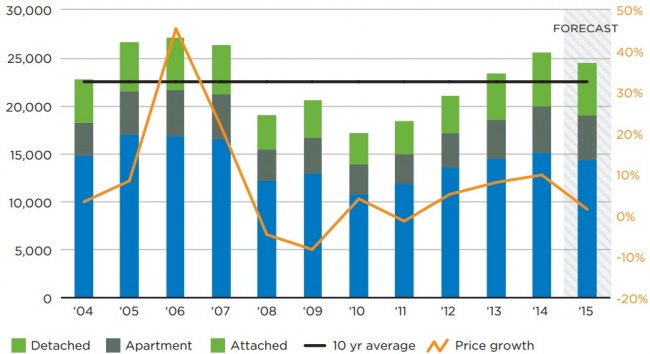 So, no, CREB says you shouldn't be worried about the market plunging to levels seen during the global financial crisis.
"The economic situation is far better today than what is was in 2009, where the fallout of the financial crises resulted in a US recession, weakness in energy sectors, a pullback in investment and ultimately job losses in Calgary," said Lurie.
Buyers in 2015 can also expect to have more choice — in housing types and price ranges.
"It's a nice scenario for buyers, but it also means that sellers will likely have to adjust their price expectations and be realistic about the amount of time their home will be on the market," said 2015 CREB president Corinne Lyall.
You can download CREB's entire 28-page market forecast by clicking here (PDF).