First Ever Passive House High-Rise Retrofit In Canada Announced In Hamilton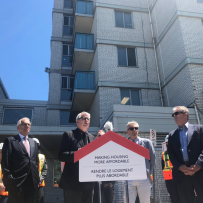 Seniors in Hamilton will soon have new affordable housing options thanks to the Ken Soble Tower transformation that will make this high-rise the first retrofit Passive House tower in Canada.
On Wednesday in Hamilton, Adam Vaughan, Parliamentary Secretary to the Minister of Families, Children and Social Development (Housing and Urban Affairs), on behalf of the Honourable Jean-Yves Duclos, Minister of Families, Children and Social Development and the Minister responsible for Canada Mortgage and Housing Corporation (CMHC), announced $10M in National Housing Strategy (NHS) funding to support this innovative project that will help more seniors find an affordable place to live.
Through the NHS Affordable Housing Innovation Fund the federal government is investing close to $3.7M and has a financial commitment of $6.3M through National Housing Co-Investment Fund for the Ken Soble Tower transformation. Other partners involved in the project include the City of Hamilton and the Federation of Canadian Municipalites. This project by CityHousing Hamilton, the retrofit of the 17-storey, vacant and unhabitable apartment building, with Passive House standard, will provide 146 new affordable apartments for seniors.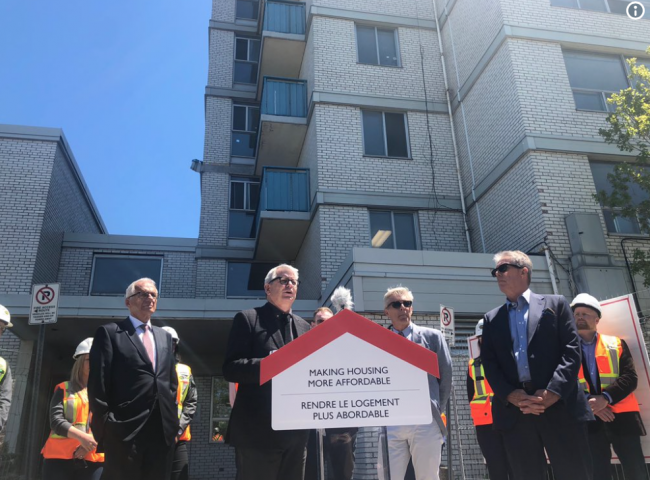 Quick facts:
· When the retrofit is completed, all 146 units of the Ken Soble Tower will be rented at affordable rates (less than average market rent in the area). The rents for 74 units, set at 69.2% of the median market rent, will be deeply affordable.
· The new building aims to achieve 75% energy savings and a reduction in greenhouse gas emissions of 88% compared to the NECB 2015.
·        Of the 146 units, 30 will meet NHCF accessibility requirements.
The Ken Soble Tower transformation will showcase how multi-residential postwar structures may be rehabilitated to the Passive House standard. It will result in significant reductions in energy consumption, greenhouse gas emissions and energy intensity of the building. The Passive House standard reduces operating costs for buildings, which contributes to increased affordability for tenants.