Fire Safety in Apartment Communities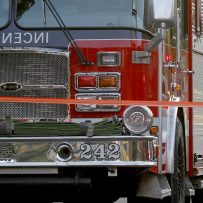 Story by: Alyshah Hasham Staff Reporter, TheStar.com
An Etobicoke landlord who cut costs on rooming house fire safety measures was found guilty of criminal negligence causing death after a tenant died in a fire and sentenced to three years in prison Friday morning.
Jasvir Singh declined to make a statement before Superior Court Justice Bonnie Croll made her ruling.
In her verdict delivered in August, Croll found Singh "concluded the retrofit (for a rooming house) was too costly so he decided not to comply."
His decision cost a man his life, she said.
After a 2010 fire inspection found at least nine people living in the house at 73 Humber College Blvd. with no working smoke alarm, Singh was ordered to make changes to the house in order to safely rent rooms to individual tenants. The changes included an interconnected smoke alarm system with a smoke detector in each bedroom and fire-resistant doors.
The landlord instead passed the fire inspection by claiming he was renting the two-storey detached house near Humber College to a single family, with a separate basement unit, Insp. Karen Borne testified.
Single family dwellings have fewer, and therefore less costly, fire safety requirements because families are more concerned with each other's safety in the event of a fire than individual tenants, the court heard.
Croll ruled that despite knowing the risks, Singh continued to operate a rooming house, renting to three individuals who hardly knew each other.
She also found that after the fatal fire on March 6, 2011, Singh fabricated a document to attempt to prove the tenants were a family.
The fire was caused by the hot plate belonging to one of the tenants, Karnail Singh Dhaliwal, catching fire while he was passed out drunk.
Dhaliwal died of smoke inhalation and his friend staying in his room, Harbir Bhinder, suffered severe burns and was hospitalized for four days.
For unknown reasons, no smoke alarm went off that night to warn the other two tenants, students attending nearby Humber College, but they managed to escape safely, as did the couple who lived in the basement apartment.
Singh showed a "wanton and reckless disregard" for the safety of the tenants, Croll ruled in August, also finding Singh guilty of criminal negligence causing bodily harm and endangering the safety of the tenants.
83-year-old woman dies in apartment fire in Saint-Lambert
Story by: Anne Sutherland, Montreal Gazette  |  asutherland@montrealgazette.com
Firefighters were called to an apartment building on Argyle St. in Saint-Lambert Saturday night for a fire on the second floor.
The 70 tenants in the building were safely taken out of the building, but firefighters found an 83-year-old woman in the apartment where the fire originated. She had been overcome by smoke.
She was carried out and paramedics tried to revive her. The woman was taken to hospital where she was pronounced dead.
Constable Mark David said the fire was accidental. Only the apartment of the deceased woman was damaged.
"It was either from smoking or an electrical fire," David said.
Cooking fire causes $10K in damage to William Street apartment
Story by: CTV London
London fire crews were called out to an apartment complex at 570 William Street over the noon hour Sunday. A number of residents had to evacuate the second floor of the fire story building during the kitchen fire.
The blaze began with a pot on the stove. Fire extended into the microwave above stove and into the kitchen cupboards. Fire officials say the unit filled with smoke which filtered into some of the other units.
Luckily, there were no injuries. Damage is estimated at $10,000 dollars.