FINESSING THE FINANCIALS KEY TO PARKDALE LAND TRUST DEAL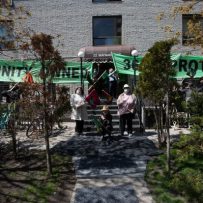 Up until mid-April, residents at 22 Maynard Ave. in Toronto's rapidly gentrifying Parkdale neighbourhood worried about where they would live when their landlords sold the building. But when a community land trust purchased the 36-unit, affordable rental property, residents breathed a sigh of relief.
"When you take the element of fear of a bad landlord away, when you try to work with affordable rents, when a unit is maintained, when a relationship isn't acrimonious – because they shouldn't be, it fosters community," said Lynne Sky, one of the building's 42 residents.
For more than a year, the Parkdale Neighbourhood Land Trust (PNLT) worked to acquire its second affordable rental building, the first having been the building next door. The community group aims to preserve the stock of affordable rental housing by purchasing buildings when they go up for sale. The properties are then managed by a local charity.
Toronto's overheated real estate market has made competition for rental buildings increasingly stiff, so PNLT comes to a crowded market. Non-profits such as PNLT are also disadvantaged by the difficulty in raising funds and the slow pace of approvals for government programs.
PNLT solved the problem by combining the backing of local investors and donor groups with a community-friendly financial institution. For the purchase of 22 Maynard, PNLT teamed with Vancity Community Investment Bank, which provided an $8.5-million loan, backed by $2.6-million in loan guarantees from PNLT's donor-investor group.
"We've been seeing buildings come to market and being sold and being lost," said PNLT executive director Joshua Barndt.
Mr. Barndt said that there has been an escalating affordability crisis in Toronto. The Parkdale neighbourhood has for decades been a haven of affordability west of Toronto's downtown, but in the past 20 years there has been a growing tide of homebuyers, infill builders and investors looking to buy up relatively cheap rental properties and turn them into private homes. In 2017, PNLT conducted a seven-month study to determine how many rooming houses in Parkdale had been lost. The group's research showed that 28 rooming houses had been converted to private ownership in the last decade, displacing about 350 people.
Throughout the COVID pandemic, the organization has seen the need for safe and affordable housing grow.
"To address this need … we need to build affordable housing, but we also need to preserve and protect the existing, affordable rental housing that we already have in our communities," Mr. Barndt said.
When 22 Maynard Ave., went up on the market, the land trust decided to purchase it as quickly as it could.
"We knew that if this building sold to a corporation, interested in upscaling or a speculative investor, that these tenants may be at risk of being thrown into a precarious housing situations or homelessness. So we knew we needed to act," Mr. Barndt said.
The financing through VCIB gives the Parkdale Neighbourhood Land Trust the time it needs to secure government funding support to pay off the loan.
"By the bank playing this role to provide a 100-per-cent financing facility, it allows these multiple impact investors to come in a streamlined way … to sort of fill in essentially an equity component without PNLT having to go and raise their own investment fund or numerous foundations having to do direct loans to the organization," said Trish Nixon, VCIB's managing director of commercial impact banking.
"It really was about providing an efficient and streamlined approach to solve this timing issue and leverage the capabilities of the different players."
Other community groups seeking to support affordable rental in other parts of Toronto and in other provinces have used similar funding models. Shared equity is finding increased popularity; Options for Homes has been active in Toronto for 25 years; Vivacité in Québec is relatively new to the field.
In Vancouver's east side, Hogan's Alley Society Land Trust negotiated with the city to secure areas in the community that could be turned into cultural assets. The group also included marginalized voices in the process, so the planned redevelopment did not replicate the historical harm and future displacement of the Black community.
At 22 Maynard Ave., residents come from diverse backgrounds. Ms. Sky said there are racialized people and immigrants in her building, and the acquisition by the PNLT will help keep her neighbours in an affordable living environment.
"People are starting to look at things a tad differently. We need humans housed, and this is a very appropriate way to go about that," Ms. Sky said.
Anne Marie LaLiberté, another resident, said she is skeptical about PNLT's new ownership of the building, but she is hopeful the land trust will start working on some improvements soon.
"I guess we'll see how it goes. I do believe that they will come around, maybe within a month or so, and try to start doing repairs. I do believe they will start doing it a lot faster than people might give them credit for. This is a very militant neighborhood. … You either do what you say or don't say it at all."
Story by: The Globe and Mail