Finance Minister Morneau reportedly set to close tax loophole for foreign homebuyers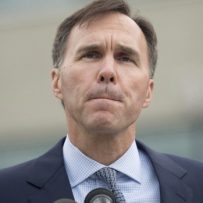 Story by: Ethan Lou, Reuters
Finance Minister Bill Morneau will make an announcement on Monday on the country's housing market, a government official familiar with the matter said.
The official, who spoke on condition of anonymity due to not being authorized to talk to media, did not disclose further details.
The Globe and Mail newspaper, citing an unnamed government source, said Morneau will unveil new measures aimed at slowing the flood of foreign money pouring into overheated housing markets like Vancouver and Toronto.
The article said Ottawa will close a tax loophole that allows non-residents to buy homes and later claim a tax exemption on the sales. The government plans to make sure the principal-residence exemption is only available to individuals who reside in Canada in the year the home is purchased, it said.
Hot housing markets in Canada's two largest cities, Toronto and Vancouver, have sparked some fears of a housing bubble, and Morneau said in June the government has formed a working group to recommend policy changes.
Morneau's office said on Sunday he would make an announcement in Toronto today, but did not elaborate.
The office could not be immediately reached for comment.  
Housing prices have soared in recent years in Toronto and Vancouver, fuelling speculation that foreign ownership is driving up prices.
With files from The Canadian Press