Federal Government must be smoking something: Provinces balk at Ottawa's marijuana tax plan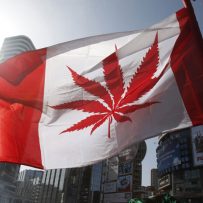 Provincial leaders say they are not impressed with the federal government's proposal to evenly split excise tax revenue from marijuana sales.
They say that type of tax distribution would simply be unfair, given the extra costs provinces will end up shouldering as they prepare for the legalization of recreational cannabis in July of 2018.
"The federal government must be smoking something to think it will work for the provinces," said Alberta Finance Minister Joe Ceci, while speaking to reporters Friday. "It's unacceptable."
Ottawa is proposing an excise tax of $1 per gram of marijuana or 10 per cent of the final retail price, whichever is higher, and that tax revenue would be split evenly between federal and provincial governments. 
"The federal proposal to share revenue 50/50 is not reasonable or sufficient, particularly as the transition to a legalized and regulated system will come with significant incremental costs to the province related to enforcement, road safety, justice, health and education," said Ontario Finance Minister Charles Sousa in a statement released Friday.
"We want to be sure we get this right," said B.C. Finance Minister Carole James in an interview on BNN.
"If there are lessons to be learned from Washington and Oregon and Colorado, it's that we need to ensure that the regulations are in place, that they are clear, that we are doing everything we can to ensure that the criminal element is not there when it comes to legalization," she added.
The B.C. Finance Minister also said her province hasn't decided if a provincial excise tax would be appropriate.
"You have to be careful to make sure that the taxation level is right; and, you know, we're not looking from British Columbia's perspective at this being a huge cash issue," said James.
Quebec Finance Minister Carlos Leitao said not only should provinces receive more of the revenue, they should also have more say over how those tax dollars are spent.
"The federal government's proposal of cannabis taxation does not correspond with the realities of the needs of the provinces," said Leitao in a statement. "It's not about getting a share of the profit, it's about covering costs."
Federal MP Bill Blair, who has led the government's efforts to legalize cannabis, released the government's tax proposal on Friday. A period of public consultation will end on December 7. The government will then meet with provincial finance ministers in Ottawa on Dec. 11 to discuss the proposals, as well as findings from the public consultation.
"I'm taking the federal minister at his word that this is a negotiating position," said James. "We'll certainly be coming to the negotiating table to say that that isn't a fair share for the provinces and certainly not for British Columbia."