Federal government commits $11.9 million for PEI affordable housing complex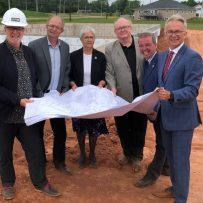 The governments of Canada and Prince Edward Island have committed $11.9 million to finance the construction of a 60-unit affordable housing complex in the PEI capital of Charlottetown.
The complex, called Martha's Place, will be situated at 2 Acadian Drive in Charlottetown and will also house part-time social services from the Sisters of St. Martha.
Fifty affordable units will be leased to the PEI Housing Corporation, who in turn, will lease the units to people on their wait list on a rent geared to income of 25%. The remaining 10 units will be rented to the general population at market rates.
"The city of Charlottetown is committed to working with all levels of government, stakeholders, community organizations, and private developers to create more affordable and accessible housing units in the capital city," said Charlottetown mayor Philip Brown. "Martha Place will be a great addition to Charlottetown's housing stock and will help us move towards a more comfortable vacancy rate. Upon completion of construction, the new residents will have a safe and affordable place to live and raise a family."