FAREWELL TO JUAN, CO-FOUNDER OF RHB MAGAZINE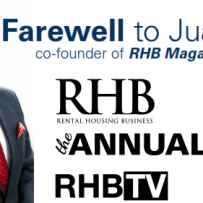 Juan Malvestitti, director of RHB Magazine, will soon be moving on to other ventures. This issue of the magazine will be his last. As co-founder of RHB Inc., Juan has helped to grow the company and its brand, making it the leader in serving Canada's rental housing industry.
"I'd like to thank our team, industry colleagues, and loyal clients for being an integral part of our success and for making the last 10 years an exhilarating ride," said Juan. "I'm happy that we have been able to achieve our collective vision of becoming the national voice of Canada's rental housing industry."
Looking back
Juan emigrated to Canada from Argentina when he was a child. Throughout his early 20s, he worked in various roles across different industries, gaining valuable experience along the way thanks to his desire to succeed. During his time working with an industry publisher, he first encountered Marc Cote, who was also involved in the magazine publishing industry. They got to know each other and discussed their mutual interest in different facets of the industry.
Several years later, their paths would cross again. Marc was building his magazine publishing company, while Juan had started his own publication. Marc invited Juan to join forces, and both later saw an opportunity to create a publication that would cater to Canada's rental housing industry. And so, in 2011, RHB Inc. was born.
Over time, RHB Magazine became the trusted voice in Canada's rental housing industry, widely read by building owners, property managers, industry association members, and  professionals who provide services to the rental housing industry. The magazine covered a wide range of topics, from building maintenance and new technologies to legislation and COVID-19's impact on the industry. It also covered the latest news and events, published numerous market reports, and highlighted key members of the rental housing industry. RHB Magazine also formed partnerships with several industry associations, making it truly representative of the people who work in rental housing.
"Juan was relentless in marketing and growing the magazine, and was instrumental in making it what it has become today," said Marc. "His efforts contributed to RHB Magazine earning the hearts and trust of the rental housing industry, and his tenacity helped the company to grow beyond the magazine."
Growing beyond the magazine
With the success of RHB Magazine, both Marc and Juan believed that there was an appetite to do more for the rental housing industry. They wanted to create a one-stop media platform for all things related to rental housing. So, they set out to do just that.
RHB Inc. publishes a line-up of titles other than RHB Magazine, including the national edition of theANNUAL and four regional editions of theANNUAL, which are yearly periodicals that provide owners and managers with vital information to analyze and respond to market needs, size, and competition. RHB Inc. runs MINGO Rally, a national one-day information building demonstration, review, and trade show involving Canada's apartment associations. RHB Inc. also created RHB Newsreel, a digital newswire of topics relevant to the rental housing industry, covering topics such as affordable housing, bylaws and regulations, finance, health and safety, industry trends, and more. Perpetual Media Group, which is part of RHB Inc., provides marketing and branding for the real estate industry.
Both Marc and Juan are proud of their achievements, especially the launching of RHBTV, the first online news broadcast for the multi-residential industry. Each episode covers a range of topics, such as market insights and trends, legal, finance, development and acquisitions, CMHC data and reports, energy efficiency, capital expenditures, and more. It was a bold move that helped RHB Inc. solidify its position as the voice of the industry.
"RHBTV has helped us to continue our leadership in the rental housing space, providing tailored regional news to a vast national audience," said Juan. "Hard work and dedication have enabled us to accomplish this goal, as well as our mission to provide value to our loyal readers and association partners."
Moving forward
After more than a decade with RHB Inc., helping to grow it from one magazine to a one-stop media platform for the rental housing industry, Juan has decided to pursue new challenges and interests. Given that their paths have crossed several times over their mutual careers, it's pretty certain that RHB Inc. has not seen the last of Juan.
"It was a true  pleasure to be part  of making RHB Inc. what it has become today," said Juan. "I worked with a fantastic and  dedicated team, and  got to meet some amazing industry colleagues and loyal clients, who I'm thankful to for being a part  of our  success."
For more information on RHB Inc., please visit www.rentalhousingbusiness.ca