'Fantastically good' Canadian economy shifts focus to rate hike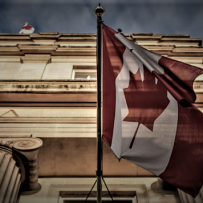 Canada's economy is gaining strength instead of buckling amid a trade fight with the U.S.
Exports rose to a record high in June even as President Donald Trump slapped tariffs on steel and aluminum, and gross domestic product expanded in May at its fastest clip in a year, according to data released this week by Statistics Canada.
That has economists predicting second-quarter growth of more than 3 per cent and talking about the possibility of a second-straight rate increase from the Bank of Canada. Another move from the central bank next month was considered a long shot until now, as trade threats continue to cloud Prime Minister Justin Trudeau's economic agenda.
"It's a fantastically good week for Canada on the economic side," Jean-Francois Perrault, chief economist at Bank of Nova Scotia, said by phone. Scotiabank became the first major Canadian commercial lender to predict a September rate increase this week, with the other four big banks still calling for Governor Stephen Poloz to hold fire until October.
Poloz raised rates at the central bank's July meeting, the fourth move in a year, and said further increases could be needed with the economy operating near capacity. The governor told reporters trade risks are just that, reiterating that policy makers will be guided by incoming data instead of political rhetoric.
"The Bank of Canada is on course to raise rates in the coming months, and while our callremains for a hike in October, a September move isn't out of the cards," Royce Mendes, a senior economist at Canadian Imperial Bank of Commerce, wrote in a research note.
Investors were putting the odds of a rate hike in September at about one in four Friday afternoon, up from one in five a week earlier. The odds for October were two in three.
Another key variable in the Bank of Canada's rate calculus will be pinned down next week, with jobs figures due Friday. Citibank's economic surprise index, which measures how data compares to market expectations, turned positive this week for the first time since February.
"The economy is still humming along," Dawn Desjardins, assistant chief economist at Royal Bank of Canada, said Friday in a phone interview. Policy makers "will continue to gradually remove the stimulus because the economy is really running up against capacity constraints."
To be sure, U.S. protectionism could still sideswipe Canada — especially if Trump follows through on threats to put tariffs on automobiles, one of the northern nation's top exports. Cross-border relations frayed somewhat this week, when Trudeau's minister in charge of talks to update the North American Free Trade Agreement was left out of discussions between U.S. and Mexican officials, according to three people familiar with the matter.
Perrault said Scotiabank was nonetheless confident in advancing its prediction for a rate hike, because even bilateral talks showed progress on Nafta. Canada's growth rate still reflects a drag from trade uncertainty, which could be lifted should a deal be reached between the three nations ahead of U.S. midterm elections this fall.
"Capacity pressures are forcing firms to invest," Perrault said. "Maybe they are investing reluctantly, but they are investing."