Expect To See More Purpose-Built Rental In Canadian Real Estate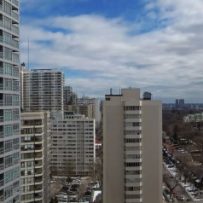 Story by: The RentSeeker.ca Team
Whether or not you are familiar with the term "purpose-built rental stock," chances are that you will be hearing more about it soon.
The Canadian real estate market is a major driving factor for the economy right now, and the rental market segment is a contributing force. Purpose-built rental units are making a comeback and in coming years they will play a larger role in the Canadian rental real estate market.
The Canada Mortgage And Housing Corporation (CMHC) defines purpose-built rental stock as "privately initiated, purpose-built rental structures of three units or more."
If you can't picture what that looks like, a quick drive down the Gardiner Expressway will make it very clear. Interest rates are low, renter demand is high and investors are looking for alternate income streams. These combined factors create the perfect condition for purpose-built housing projects to thrive.
Buying a home is far less attainable than it used to be for young couples and home ownership isn't the holy grail of retirement that it was for previous generations of Canadians.
Primary vs. Secondary Rental Market
Properties within the rental real estate market are categorized into two sub-groups. The primary rental market consists of purpose-built rental stock, which are large structures with multiple units that were built with the intent of each unit being rented. Most of these structures are apartment buildings, as the primary rental market (made of purpose-built rental stock) consists of rental units that exist within privately owned structures in groups of three or more, including both apartment buildings and row housing divisions.
On the other side, the secondary rental market consists of renter-occupied rental units that do no fall into the above category. This includes buildings with fewer than three units, condominiums (often which have a mix of owners and renters) single detached homes and various other structures. This market is steadily growing along with sprawling urban developments, but this has been the case for several years.
On The Rise Since 2000
During the mid 90s, construction of new purpose-built rental projects took a major nose dive. After Canadian interest rates hit an all-time high of 16 per cent in February of 1991, to little surprise, people weren't buying properties. Since 2000, interest rates have been below five per cent and real estate has been sky rocketing, including construction projects in both the primary and secondary rental markets.
Furthermore, when borrowing money is cheap, both builders and buyers of apartments and condos reap the benefits. Lowered interest rates mean less debt for builders, and low mortgage rates makes buying more affordable, especially for first-time property owners. Both factors fuel the need for new developments, and the added jobs created from all these projects has certainly helped the Canadian economy that is experiencing tough times in other sectors like manufacturing and energy.
Fresh Investment Opportunity
As investors and stock holders deal with a stormy economic situation, new investment streams are needed, and real estate is booming. Builders are hammering out buildings in record numbers, and investors like the steady and reliable income that the purpose-built units provide. Since the 1990s, the percentage of apartment construction projects that are purpose-built has never been higher. While there is debate of how much of that can be accounted for by foreign investment, there is no shortage of articles talking about the effect of Chinese investors on housing prices.
Renting is Back!
The idea of working for your whole life, making sacrifices and being "house broke" to pay your mortgage is becoming an antiquated train of thought, especially when prices are this high. Buying a home is far less attainable than it used to be for young couples and home ownership isn't the holy grail of retirement that it was for previous generations of Canadians.
There are a host of social factors that also contribute to the increase demand for rental units. The consumeristic, modern mentality of making life count and living in the moment means short-term life enjoyment (travel, fine dining) can supersede long-term financial goals.
You'll find it can be a good time to be a renter while housing prices continue to stay at multi-year highs.
Whether you attribute that to the generation of Millennials or simply acknowledge that many people now prefer to have liquid assets and enjoy themselves, Canadians are living a more nomadic lifestyle than previous generations. This includes life changes like switching careers (let alone jobs) and living in the proverbial "now."
The future of Canada looks extremely bright, and there are new Canadians every year looking for places to live in high-demand markets, thereby also driving up the need for rental units. Here is a list of what average rents are in cities across Canada and what that rent cost can get you.
Vacancy Rates
The vacancy rates for the primary rental market in Canada was 3.5 per cent as of October 2015, which is a 0.5 per cent increase from the previous year. Rental markets in cities like Calgary (that have a high number of temporary energy sector workers) are soft, contributing to the overall high vacancy rate which is much lower in the blazing hot Toronto and Vancouver markets. Overall, there are lots of options out there and new developments are transforming Canadian neighbourhoods into world renowned cities.
This means that smart renters know there are deals to be had, which is why it's so important to use the resources at your disposal to find the best place to live. Apartment and real estate finders like RentSeeker.ca have helped thousands of renters across Canada find apartments to rent using intuitive search features which allow users to sort through thousands of apartment listings which match the criteria searched.
There are more options in the rental market than ever before, and there are no signs of it slowing down, so use the resources available online and you'll find it can be a good time to be a renter while housing prices continue to stay at multi-year highs.