Eviction complaints soar in B.C.'s hot rental market as landlords break rules to secure higher rent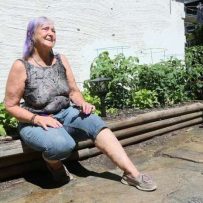 Story by: Matt Robinson, Postmedia News
Patty Gazzola had rented her Commercial Drive-area home for 29 years by the time she was evicted in the spring.
The 69-year-old Vancouver woman was told by her landlord that her house had been sold and that the buyer or a close family member of the buyer intended to live in it. She was given two months to get out.
"It was a shock," she said in a recent interview.
But after Gazzola moved out of the home at 1828 Graveley St., the new owners never moved in, she claims. Instead, higher paying tenants unrelated to the new owners did, she alleged in an affidavit filed as part of her appeal to the provincial residential tenancy branch for compensation.
Complaints over wrongful evictions are rising fast, according to the Tenant Resource and Advisory Centre, and Gazzola can now count herself among thousands of B.C. residents who have fought evictions in the past year. Some critics and experts say the penalty for landlords found breaking the rules is too weak, allowing owners to consider it as a minor cost of doing business in a hot — and lucrative — rental market.
Gazzola's claim is scheduled to be heard by the tenancy branch Jan. 16, 2017. Her allegations have not yet been tested.
Sandeep and Yojina Handa are listed as the new owners of the home. When reached for comment Friday, Sandeep Handa said his English was not perfect and he offered a family member to speak on his behalf. That person said he would not speak on the record because of the pending hearing.
If the tenancy branch finds in Gazzola's favour, she could be awarded two months rent in compensation, for a total of $2,300. In that scenario, the owners would be on the hook for the cash, but they could recoup the loss quickly given that their new tenants pay more than twice what Gazzola did, according to her affidavit.
Andrew Sakamoto is the executive director of the Tenant Resource and Advisory Centre, a tenants protection group commonly called TRAC. He said it handles about 8,000 calls a year from concerned tenants.
There has been a major jump in calls about "bad faith evictions" in the past 12 months, 157 calls compared with 62 in the year prior, Sakamoto said.
"There's a lot of money to be made right now with tenant turnover. As a landlord, you can set the new rent at whatever you want," he explained.
When Gazzola first received her notice to end tenancy in January, she had a hunch the new buyer was not going to occupy the home. So she applied to the tenancy branch to have the notice cancelled. Her hearing was held by conference call March 22, about a week-and-a-half before Gazzola's date to vacate the property.
Arbitrator L. Plenert dismissed her application. "I accept that the landlord has established a genuine belief that the purchaser or a family member truly intends to occupy the premises," Plenert stated in the decision.
Gazzola now lives in Richmond. She's in a larger home but pays a little more and misses how she could walk everywhere she went. It is a 45-minute drive from her old place. But she still goes back to the area often — her hairdresser is there, as are years of memories. Sometimes she swings by her old house to see how it has changed.
If tenants believe they were evicted in bad faith, they need to provide evidence that may include statements from the new occupants of a home or documented proof it had been listed on a rental service. In Gazzola's case, she has her affidavit. In it she swears that she spoke to the new tenants of the property, who told her they were not related to the owners.
It takes time, effort, cash and patience for former tenants to seek compensation for bad faith evictions and many of them just give up during the process, Sakamoto said.
When asked if a two-month rent penalty was stiff enough to deter bad faith evictions, Sakamoto said TRAC did not have a position on that. When asked for his own view, he said "it should be more."
"You could have a case where a tenant has been living somewhere for 20 years and this happens and the penalty just doesn't seem to fit the crime," he said.
David Eby, the MLA for Vancouver-Point Grey and the New Democratic Party's housing critic, agreed.
"That's just the cost of doing business," he said. "It's not hard (for a landlord) to do the math and say, well, even if this person challenges my decision and wins, I'm still going to be ahead if I rent out at a higher rate."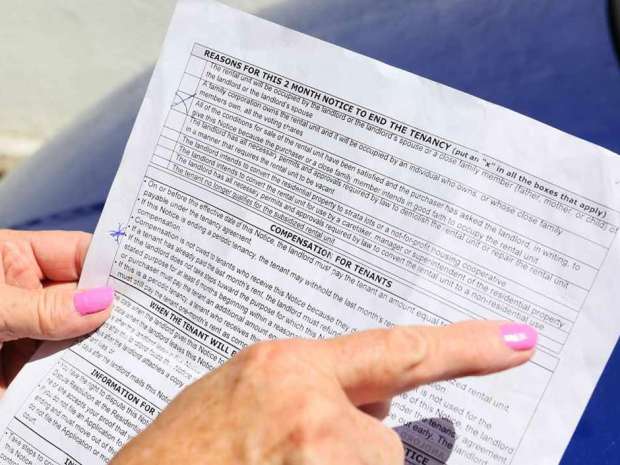 Eby said the shortage of rental housing in some of B.C.'s markets have made prospective tenants desperate and willing to pay steep rents, and some landlords are breaking the rules to take advantage of that.
Over the past year, from August 2015 to July 2016, the tenancy branch received 4,855 applications to dispute eviction notices, said Lindsay Byers, a spokeswoman for the B.C. ministry responsible for housing. The ministry can't put those figures in context because it changed the way it collected data last year, she said.
The tenancy branch puts priority on the most important cases and about three quarters of all cases are heard within five weeks, said Byers.
It is common for decisions to go in favour of the tenant — slightly more than 18 per cent of them do. In contrast, about 10 per cent of decisions are in favour of the landlord. Another 16 per cent are resolved by a settlement and 55 per cent are dismissed (with or without leave to reapply) or fall outside the branch's jurisdiction, she said.
When asked if the ministry considered the two-month penalty a suitable deterrent, Byers said: "The Residential Tenancy Act was established to provide a fair and balanced approach to tenancies for landlords and tenants."
For Gazzola, disputing the eviction is not about the money. "It's about holding people accountable."