EVICTION BAN MAY END SOON, SO WHERE WILL ALL THOSE PEOPLE GO?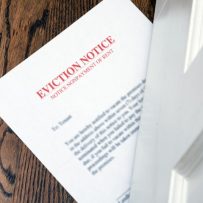 Ontario's ban on evictions may soon be coming to an end once the province reopens the economy, but a Guelph lawyer who represents some tenants is wondering where all of those people will go.
The provincial government put a halt to residential eviction enforcement early during the pandemic, but Jeff Schlemmer, staff lawyer with the Legal Clinic of Guelph and Wellington County, told GuelphToday the tribunals that order those evictions have gone ahead.
Some tenants may have come to the tribunal because they have intentionally withheld rent or done something else like destruction of property that may have led to their eviction order, but Schlemmer said many of them just had a streak of bad luck throughout the pandemic and got behind on rent.
"The big issue is people who fell into rent arrears because of COVID, there are lots of the who have eviction orders that are outstanding against them or are conditional eviction orders against them," said Schlemmer.
Early in the pandemic some groups postered areas of Guelph suggesting that tenants withhold their rent from landlords.
"Anyone who contacted us, we told them you have to pay your rent — pay as much as you can, even if you can't pay all of it," said Schlemmer. "Try to pay something every month to show you are acting in good faith. The idea of just stopping paying rent never made much sense to me because you're going to get evicted — there's no defence."
Schlemmer thinks it is possible that thousands of Ontarians could be facing eviction enforcement when the province opens back up again and the ban is lifted.
"We don't know where all these people are going to go, actually," said Schlemmer.
Evictions are enforced in each municipality by the local sheriff's office. GuelphToday reached out to the Ministry of the Attorney General and the local Enforcement Office to ask how many in Guelph are facing eviction at this time, but did not immediately receive a response.
In an email, a spokesperson for the minister of Municipal Affairs and Housing said the ministry has introduced a number of measures to protect and support tenants since the onset of COVID.
"These supports include an emergency order to temporarily pause residential evictions enforcement, a rent freeze for the entirety of 2021 and an amendment to the Residential Tenancies Act (RTA) to promote rent repayment agreements to maintain tenancies," said Krystle Caputo, director of communications for Minister of Municipal Affairs and Housing Steve Clark.
Schlemmer said he expects many of the people facing conditional eviction orders who are on rent repayment agreements may end up evicted in the end if they can't keep up with the payments.
"Some people will end up couch surfing with friends and family, some people will end up in the shelters. None of them are very good options," he said.
Finding the next apartment will likely be more difficult for anyone who has faced an eviction enforcement.
"They would be reported to a credit reporting agency and they are not going to get a reference, which will make it that much more difficult to find a place," said Schlemmer. "The other big problem is the affordability of places right now."
Some landlords may be gaming the system to increase their rents by evicting tenants instead of working with them, said Douglas Kwan, director of advocacy and legal services for the Advocacy Centre for Tenants Ontario.
"People are feeling very frustrated by the process. We had an affordable housing crisis prior to the pandemic. The pandemic has not made it any easier, in fact I think most studies would agree the affordable housing crisis has gotten worse," said Kwan.
Doing something wrong like missing rent payments is not the only way to be evicted in the province's Landlord and Tenant Board process, said Kwan.
A no fault eviction (N12) can be requested by a landlord if they intend on moving a relative or caregiver into the unit currently occupied by a tenant, or if the unit is being sold.
Landlords are currently prohibited to raising their rents to existing tenants during the pandemic, but once a tenant moves out there is no limit to the rent increase a landlord can place on a vacant unit.
"In the world we live in now where there is a financial incentive for landlords to remove tenants so they can get more money out of their unity — we have seen some landlords use the N12 as a way to get more bang for their buck for their unit," said Kwan. "As a result, long-term tenants who have been paying the rent on time and are just trying to live, they are being kicked out on the street."
Kwan said this will just make the affordable rental crisis even worse.
"We are very concerned once that stay-at-home order is lifted then there will be a ton of people evicted, being removed form their home or relying on municipal programs like shelters or homelessness prevention programs — programs that have been provided some emergency money," he said.
Sabrina Essery, president of the Guelph & District Association of Realtors, said her advice to homeowners is to try and work with tenants when possible.
"The Landlord and Tenancy Act, the tribunal, they are all backed up, the sheriff is backed up," said Essery. "When a challenge came up before the pandemic and you went to the tribunal, it could assist, but with COVID and a lock down, when a challenge arises right now with the backlog you don't have that support."
"Working with the tenant and the tenant's situation — whatever that may be — and working with the buyer or the seller. To me that always seems to work the best," she said.
Story by: Guelph Today