Even more new condo projects are stalling all over the Vancouver area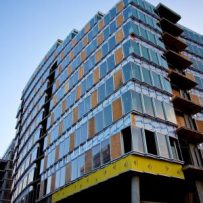 Lower Mainland condos are stuck in neutral.
Earlier this year, researchers at MLA Advisory predicted BC developers would hold off on launching some Metro Vancouver and Fraser Valley condo projects until the market recovers.
In the first quarter, developers brought 2,950 new units to market, down 40 percent from the 4,825 condos launched same time last year, according to MLA Advisory, the research branch of condo-marketing firm MLA.
"The first quarter of 2019 saw a number of project delays as developers held off sales to wait for the spring market," reads MLA's March 2019 Pre-Sale Real Estate Insights report.
"This lack of supply is troublesome in the long run as 50,000 new residents per year will look to make BC their home," the report continues.
In March, the sales phase started for six condo projects for a total of 811 units. Most of the activity was concentrated in Central Surrey and Burnaby.
That's down from the 1,144 pre-sale units across eight buildings that were launched in February, although MLA predicts April will see 10 projects brought to market, including 1,180 units.
"Projects released in March saw a slight increase in sales activity and presentation centre traffic with the arrival of the spring market," says Suzana Goncalves, chief advisory officer and partner at MLA, in a statement.
By MLA's count, agreements to purchase were signed for 28 percent of the 811 released pre-sale units in March, "the strongest activity we have seen in four months."
Lower Mainland developers have been offering incentives in an effort to move product, and this might have been responsible for some of the improvement in pre-sales.
"West Coquitlam will be the most active market over the next month as four woodframe buildings will open their doors for sales," says MLA in the report.
"Increased competition and new project launches in this market have created an environment with competitive pricing and incentives which favour buyers."