Enhancing the Renting Experience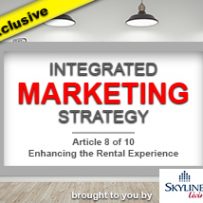 Story by: Sarah Rodrigues | Skyline Living
Last month, I discussed how outstanding customer service contributes to marketing strategy and affects tenant satisfaction, retention, and profit. The most important take away from that article is that your customer service must deliver on what your company promised.
There are several key moments when a customer interacts with your company – either with you as the owner or property manager, with the leasing agent, or with the building staff. By planning a strategy for each of these interactions ahead of time, you can ensure that each customer gets the best experience, every time.
First Impressions

The very first time a prospect interacts with your company, they will make decisions about whether or not to do business with you. This could mean looking at your ad, looking at a website, reading a sign, or calling or emailing your building. Remember the tips for making print ads and online ads count, ensure everything is correct and professional, and always answer the phone with a smile!
TIP: If you have a lot of staff answering emails, write scripts of standardized responses to inquiries that they can adapt to answer questions and book appointments.
Showings


A prospective renter is not coming to your building just to see an apartment. They are coming to see the location, the building, and the staff too. Try visiting your building like a renter seeing it for the first time. Is it easy to find? Is parking obvious? Is the landscaping attractive? Is the staff friendly and knowledgeable? Examine every aspect of the showing to ensure they are getting the best possible experience.

Since many renters visit multiple buildings in one day, you need to make your showings memorable. Even having crayons and paper to distract fidgety children, treats for visitors' pets, or cold bottles of water in the fridge of the unit can make your building stand out.

Application Process

Your prospective tenant wants to apply – make it as easy as possible. Applications should always be done on the renter's terms. Consider their schedule, their timeline, and their preferences along with your administrative needs. Remember, this is a huge commitment on the renter's part – make it not just painless but exciting for them!
Moving Day

Moving in doesn't have to be the worst part of renting an apartment. Once an application has been submitted, the renter should receive all the information they'll need for moving day, preferably in a handy, easy to reference document. Elevator times, inspection forms, contact information, utilities information, etc. can be provided ahead of time to make everything go smoother.
On moving day, along with ensuring that the unit is clean and ready for the prospect, staff should be welcoming and easy to find. Like showings, this is a great opportunity to delight renters with bonuses – a friendly welcome letter with coupons to local restaurants, cleaning and toiletry products they might need right away, and, again, crayons and paper to keep the kids occupied. Just because a renter has already signed a lease does not mean you can ignore them!
Repairs & Maintenance
Needing a repair or maintenance work is standard in an apartment rental. Renters who are perfectly reasonable about needing the repair can quickly become upset or agitated if they feel their issue isn't being taken seriously, being dealt with in a timely manner, or handled professionally. Make sure there's a process in place for recording each request, updating the tenant, and completing the work to avoid any miscommunications. Remember, a tenant would rather hear a genuine apology and an explanation for the delay than nothing at all.
Want to make these situations even better? A small gift or note apologizing for the inconvenience goes a long way!
The larger your team, the harder it is to control the interactions they have with your tenants. By creating processes, recruiting and training effectively, monitoring and reviewing interactions, and listening to your tenants, you can make sure that every tenant gets a personal, professional experience, no matter how many tenants you have.
It's important to remember that your company's reputation is either enhanced or worsened with each interaction. By making sure each interaction is covered in your customer service strategy, you can demonstrate that your brand is more than just words on the wall and truly show each and every tenant that you care.
About the author: Sarah Rodrigues is the Marketing Coordinator for Skyline Living, a division of the Skyline Group of Companies, which operates 142 apartment communities in 46 cities across Ontario, Quebec, Alberta, and British Columbia. She has worked in communications, project management, advertising, and marketing in a number of industries. Feel free to connect with her on LinkedIn.