Enbridge buying Spectra Energy in all-stock deal worth about $37B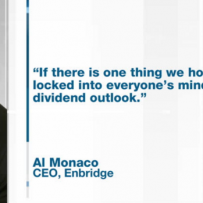 Story by: Richa Naidu, Reuters
Enbridge Inc (ENB.TO), Canada's largest pipeline company, said  on Tuesday it would buy Spectra Energy Corp in an all-stock deal valued at about US$37 billion to create the largest North American energy infrastructure company.
Enbridge's biggest-ever deal comes as the company has been steadily expanding its North American pipeline network, which carries the bulk of Canadian crude oil to the United States.
Spectra shareholders will get 0.984 shares of the combined company for each share held. This is equivalent to US$40.33 per share, representing a premium of about 11.5 per cent to Spectra's closing price on Friday.
The deal has a pro-forma enterprise value of $165 billion, the companies said. Spectra's total long-term debt stood at US$13.58 billion as of June 30.
Spectra shares were up 5.8 per cent at US$38.25 in light premarket trading. Enbridge's U.S.-listed shares were down 1.8 per cent at US$40.25.
Enbridge Chief Executive Al Monaco will lead the combined company, which will have its headquarters in Calgary. Greg Ebel, Spectra's CEO, will be non-executive chairman.
"The combination of Enbridge and Spectra Energy creates what we believe will be the best, most diversified energy infrastructure company in North America, if not the world," Ebel said in a joint statement by the companies.
Monaco said that the deal makes strong strategic and financial sense and the all-stock nature of the deal provides shareholders with the opportunity to participate in future growth.
"This transaction is transformational for both companies and results in unmatched scale, diversity and financial flexibility with multiple platforms for organic growth," Monaco said.
After the close of the deal, Enbridge shareholders will own about 57 per cent of the combined company, which is expected to deliver annual run-rate synergies of $540 million, most of which is expected to be achieved in late 2018.
Enbridge said it planned to divest about US$2 billion of non-core assets over the next year to stay financially flexible.
The deal is the second big one by a Canadian company for a U.S. pipeline operator in recent months.
TransCanada Corp, Canada's second-largest pipeline company, completed its US$10.2 billion takeover of Columbia Pipeline Group in July.
Houston-based Spectra, which operates in both Canada and the United States, has 21,000 miles (33,800 km) of natural gas and oil pipelines and storage for about 300 billion cubic feet (8.5 billion cubic meters) of natural gas storage and 4.8 million barrels of crude oil.
Spectra's shares have jumped about 51 per cent since the start of the year, handily outperforming its peers on the Dow Jones U.S. Pipelines index even as low crude prices continued to drag on the North American oil and gas industry.
Enbridge bought a minority stake in the Bakken Pipeline system through a joint venture last month. It also won an auction for a stake in EnBW's Hohe See, one of Europe's largest offshore wind power projects, according to a source familiar with the matter.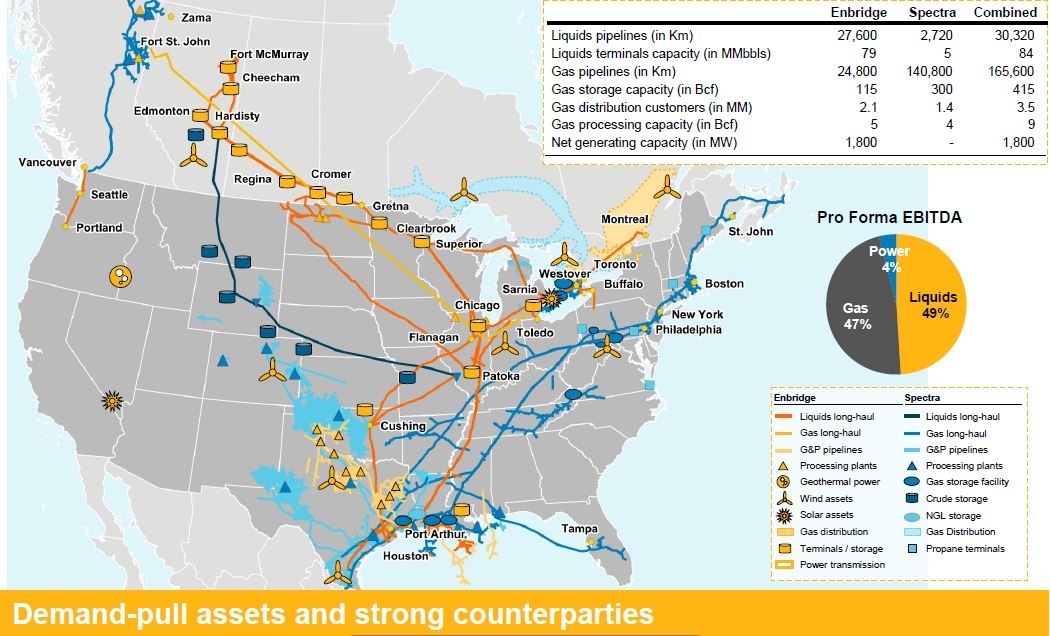 Credit Suisse Securities (Canada) and RBC Capital Markets were Enbridge's financial advisers, while Sullivan & Cromwell LLP and McCarthy TDetrault LLP were its legal advisers.
BMO Capital Markets and Citi were Spectra Energy's financial advisers and Wachtell, Lipton, Rosen & Katz and Goodmans LLP its legal advisers. Skadden, Arps, Slate, Meagher & Flom LLP advised Spectra on tax issues.
The deal is expected to close in the first quarter of 2017.  
With files from The Canadian Press