Empty Garages: The Answer to California's Housing Shortage?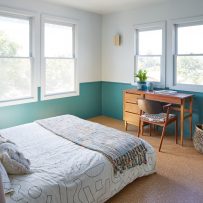 "Steps from USC campus, a modern, newly built detached studio apartment. Full kitchen w/ brand-new gas stove, dishwasher. Washer/dryer, full bath, a/c, bedroom nook, ready-to-go entertainment hookups. Scandinavian design appeal. Walking distance to L.A. Metro. $1,400/month."
A dream Los Angeles rental listing? At 20 percent below market, in a neighborhood where the alternative is a 70-year-old building with a coin-operated laundry?
It's not reality yet, but it will be soon. Construction will begin this month on 20 to 30 units fitting this description through an innovative development effort that focuses on converting detached two-car garages — of which there are 250,000 in Los Angeles County — into subsidized studio apartments.
According to a recent report by the California Housing Partnership, the state needs 1.4 million more affordable rental homes to meet current needs. The housing crisis in California means that architects and builders have had to get creative, and Steven Dietz said he is up for the challenge.
"I believe that affordable housing is the single biggest problem that California faces, and it's entirely man-made," said Mr. Dietz, the chief executive of United Dwelling, a company that won a million-dollar grant last year from Los Angeles County to help bring his vision of garage conversions to life.
Garage conversions, granny flats, backyard cottages, in-law apartments, guesthouses, crash pads: In California as of 2017, they're all "accessory dwelling units," or ADUs, and state laws regulating their construction have been relaxed. Governor Gavin Newsom signed a law this month that further encourages their construction.
Larger, multiroom ADUs built from the ground up are also a part of efforts to contend with the housing crisis, but Mr. Dietz, a longtime venture capitalist who invested in Costco and Starbucks and has taught a class on entrepreneurship at the University of Southern California's Marshall School of Business, took inspiration from the new laws to focus on a garage-based solution — with research help from his students at U.S.C.
His idea is simple: United Dwelling enters a partnership with a homeowner, pays for the garage conversion, manages the rental of the apartment to a qualified applicant and splits the rent with the homeowner.
Since most of the detached garages in Los Angeles aren't used for cars — 91 percent of the 2,100 homeowners surveyed by Mr. Dietz's students use their garages for something else, mostly storage — this can provide rental income and affordable housing in many neighborhoods. And it does it by using existing structures.
"The No. 1 complaint with the construction of any new affordable housing anywhere is that it changes the fabric of the neighborhood," said Christian D. Návar, the co-founder of Modative, an architecture firm in Los Angeles County that has been leading the charge in reimagining affordable ADUs. "That isn't an issue, with this approach."
Modative has been specializing in small-footprint home design since its founding 13 years ago, but the current ADU push in the firm's business started a year ago with Mr. Dietz, who asked Modative to design an attractive, appealing studio garage conversion that could be done quickly and efficiently and at large scale. Mr. Návar and his business partner, Derek Leavitt, designed a 310-square-foot studio garage conversion with a set of specifications to fit almost any detached two-car garage.
Other organizations in the city have also been helping to make ADUs accessible to more people.
The Backyard Homes Project, coordinated by LA-Más, a nonprofit design group working in low-income communities, received more than 130 applications in May from homeowners interested in building its one- and two-bedroom ADU designs. The program also provides the design, financing, construction and management in a one-stop shop, with collective partners that include Self-Help Federal Credit Union, LA Family Housing and Restore Neighborhoods LA.
Elaine Phuong, who lives in the West Los Angeles neighborhood, had her home's Spanish-style stucco garage converted into one of Modative's prototypes over the summer.
"We had a garage we were just dumping stuff in. We didn't have a car in it," said Ms. Phuong, 40, a restaurant owner who lives with her husband and two young children.
Last year, she connected with Modative and agreed to become the first model conversion. "I love minimalist homes that really maximize space. It's really thoughtful. It doesn't feel like a garage. It just feels like an apartment, but it's camouflaged with the Spanish style, with a patio."
Ms. Phuong said her mother may move into the space, or her cousin. "As much as renting it out is attractive, having family stay with us is probably a priority right now, because we have twin girls who are four years old," she said. "But there's a lot of potential to help us regain whatever money we put in it."
United Dwelling is focusing its initial push in the South Los Angeles area, where there are 9,600 detached garages within three-quarters of a mile of one of the six Metro stops closest to U.S.C., which is a partner in the project. Each Metro stop represents a cluster ripe for conversions.
Leimert Park is a major neighborhood in the cluster, and Mr. Dietz's near-term goal is to begin construction there on 24 garage conversions in October. Many of the leases have already been signed.
"We have a teacher's aide who works at a school in Leimert Park but commutes from Lancaster, two hours away," Mr. Dietz said. "She ends up sleeping in her car three to four days a week. One of the houses we're working on is a couple with a 2-year-old, who live five doors down from the school."
The ideal outcome? The teacher gets to live a minute's walk from her job, the parents receive rental income and occasional babysitting help.
And there's one less car on the road.
By next January and February, Mr. Dietz said, he foresees 20 to 30 conversions a month in the first six geographic clusters around U.S.C. In subsequent rollouts, United Dwelling is working with public schools to provide housing for their teachers and with area hospitals to provide housing for doctors, nurses and other health workers.
Modative's chief innovation has been to trim both construction time and cost. It also streamlines the permit and inspection process.
In aesthetic terms, it was important to Mr. Návar that the materials and fixtures be of high quality, modern, and thoughtful, with a pleasing selection of colors.
Through extensive research, he and Mr. Leavitt homed in on the necessary creature comforts: a bedroom nook that's tucked away, a full gas oven and stove, wiring for a television and entertainment area, a stacked washer-dryer and a dishwasher.
Mr. Návar explained that Modative can save time and money by pre-assembling walls, kitchens and wiring, and then storing the components until a site is ready. Ms. Phuong's conversion was completed in June. This month, United Dwelling's Leimert Park conversions will begin in earnest.
The prototype costs about $100,000, but by doing four to five conversions at a time in the same neighborhood, Modative estimates, it will cut the cost of each unit to about $65,000. With an empty garage and a clean foundation, each ADU conversion takes about two weeks.
In its partnership with United Dwelling, Modative is also contributing jobs; the firm has 15 construction workers who have been hired through Chrysalis, a nonprofit program that helps find jobs for people who have faced past roadblocks to employment, including homelessness, substance abuse and incarceration.
Each employee undergoes an in-house training program specifically geared to the ADU projects. To meet its construction goals, United Dwelling said, it needs to hire more workers.
"We have done the big-budget, expansive custom home projects, which are fun in and of themselves, but they won't solve the housing problem, and they won't benefit the community," Mr. Návar said. "Right now, this is the work that excites us the most."
Mr. Návar said Modative's focus on ADUs originated with his own challenges in finding a place to live, and with those of his colleagues.
Many of the company's employees have moved to Portland over the years, in search of housing that was within their means.
Mr. Návar grew up in Sunnyvale, in the epicenter of Silicon Valley, and he said that he and his wife — as business owners, parents of two young children, and with $250,000 in student loans — could not afford a home there.
"It doesn't really matter what stage of income you're at in California — you can't afford a house," he said. "Whether it's a low-income rental or a first-time home buyer looking for something attainable, housing has become a universal problem."
The other strand of Modative's ADU work is an answer for first-time home buyers: units that are up to two bedrooms with 2.5 baths on a compact footprint. As with the studio garage conversion, customers choose from a set of models with different palettes and options. Think of buying a car; you select a model, and then you have a few choices. Do you want the red one or the black one? Leather interior or fabric? The home choices are limited, and so is the price: $350,000.
Modative built the first of its larger ADUs in West Los Angeles late last year, and it has several more home projects, including one in Santa Clara, Calif., that will be completed by the end of the year.
The larger ADU is the kind of structure that empty nesters might build in the backyard, so that their grown children might live in it or so that they can rent it for extra income. The hope is that well-priced ADUs can go far in solving a range of housing problems all over California and in the country.
"While nonprofit housing developers prioritize multifamily developments, we support ADUs as one of many tools that can help address our housing crisis, given the staggering deficit of units across California for people of all incomes," said Alan Greenlee, executive director of the Southern California Association of Nonprofit Housing. "Notably, ADUs can help achieve greater density of units in neighborhoods that are primarily zoned for single-family homes."
To spread the gospel of their garage converted ADUs more easily, Modative has "IKEA-fied" the building plans for the conversion, simplifying instructions to make construction accessible to more homeowners and contractors.
They have just licensed a set of test plans to an outside contractor to see if he can build it on his own from the plans. Mr. Návar and Mr. Leavitt said they were inspired by the simple and elegant visual coding of LEGOs — no written instructions needed.
The lessons learned in their youth don't stop there. When he was a seventh grader at Sunnyvale Middle School, Mr. Návar took a "wacky" class called Survival of the Fittest that he remembers vividly. In it, he and his classmates were asked to imagine being stranded in the wilderness after a plane crash and to think about the most important basic thing that they couldn't live without. Water, they all agreed. Definitely water.
"It was shelter," Mr. Návar said; his teacher made a point of it. "Without it, the sun, the heat, the cold — the exposure would get you first. And I never forgot that."
Correction:
An earlier version of this story incompletely described the role of the organization LA Más. Its Backyard Homes program coordinates design, financing and other building requirements for buyers.