Emerging Real Estate Trends 2014
PWC and the Urban Land Institute recently launched a publication titled Emerging Trends in Real Estate 2014®. We have highlighted some the top trends and industry reports for the real estate market with an onus on data pertaining to the multi-residential sector.
Top Trends for 2014
Cap Rates on the Rise
Survey respondents agree that capitalization rates will stabilize or rise in 2014 depending on specific assets. To some extent, this will be a function of higher borrowing rates. "We have seen an increase of 50 basis points across the board in response to increased interest rates," says an interviewee.
Across the 11 property sectors surveyed, cap rates are pro- jected to increase by less than 25 basis points in 2014. Suburban office space is likely to see the largest increase, at 25 to 50 basis points, followed by high-income for-rent apartments and research and development (R&D) industrial property. Expectations of softer demand for these property types are behind the projected increase in cap rates as investors demand a higher return.
The smallest increases in cap rates are expected to be seen in full-service hotels, moderate-income for-rent apartments, and regional malls. These assets are perhaps seeing the smallest increases due to their specific attributes. Full-service hotels
and moderate-income for-rent apartments can raise their rents in a shorter time frame, allowing them to take advantage of a stronger market. Regional malls don't have the same level of rent adaptability, but they do tend to offer a bondlike income stream. Survey respondents may be seeing the advantage to both these characteristics going into a faster economic growth environment.
"Cap rates are starting to focus on quality and make distinction between good and bad properties," an interviewee explains.
REITs Recede as Buyers, but Other Participants Eager to Take Their Place
In 2014, Canadian real estate investment trusts (REITs), which represented about three out of ten buyers as recently as July, may choose to be more selective about the assets they pur- sue. One of the reasons for their previous dominance in the acquisition market was that the number of REITs in the market increased significantly over the past three years. "They are no longer the dominant buyers," says an interviewee. The reason is that REITs are sensitive to rising interest rates. "Their cost of capital has gone up so much, from about 4.5 percent to 6.5 percent. They were buying at cap rates of 5.25 percent to 5.5 percent, but now it's hard for them to be accretive."
The once-dominant, but now reduced, role of REITs as acquirers is quickly being filled by pension funds, which "never really went away but now are in full position," the interviewee says. At the same time, private buyers, which historically were not as aggressive as REITs and not as exposed as REITs to interest rate increases, are becoming more active as acquirers. They tend to operate in different markets. "REITs get marked to market every hour," he says. Pension funds, which are driven by actuarial assumptions and are thus not forced to confront the impact of interest rates until year-end, were competing directly with REITs to buy the highest-institutional-grade properties.
Well-capitalized REITs will not have trouble accessing additional capital, but may choose not to due to the expected higher cost. Any additional capital raised must be redeployed at an expected rate that is accretive to unit-holder (i.e., shareholder) value. If REITs have decided to be more selective in the assets they pursue, they could need less capital in 2014. Consolidation could occur among small and mid-sized REITs, but consolida- tion will need to add to unit-holder value. There is some concern about the potential impact on REITs if valuations soften in 2014. "Weaker REITs may not have a choice, and will have to sell into a softer market to make distributions," says an interviewee.
Capital Plays Hard to Get
Although survey respondents see both debt and equity capital as being available in 2014, they don't expect capital to be easier to obtain. Our interviewees expect that owners of capital will only be looking to invest in the best projects and that they will be risk-adjusting their return expectations more so than in the last few years. "There is lots of cash available, but there is no place to put it. Mortgage lenders are going crazy," says an interviewee. "Lots of cash is available for good projects, but banks are increasingly lending only to established builders with good balance sheets," says another. It is unclear whether equity-underwriting standards are getting stricter in Canada. In 2014, 44 percent of respondents expect equity underwriting standards to remain unchanged, while 44 percent expect them to become more rigorous, which would keep capital from flowing into ill-conceived transactions. Only 11 percent of respondents expect equity capital underwriting to be less rigorous. But it is clear that debt-underwriting standards are getting tougher. The survey reveals that debt capital will be at least as difficult to obtain in 2014, with 50 percent of respondents predicting that debt underwriting standards will be "more rigorous" and with 90 percent of respondents predicting that they will be either "the same" as a year earlier or "more rigorous."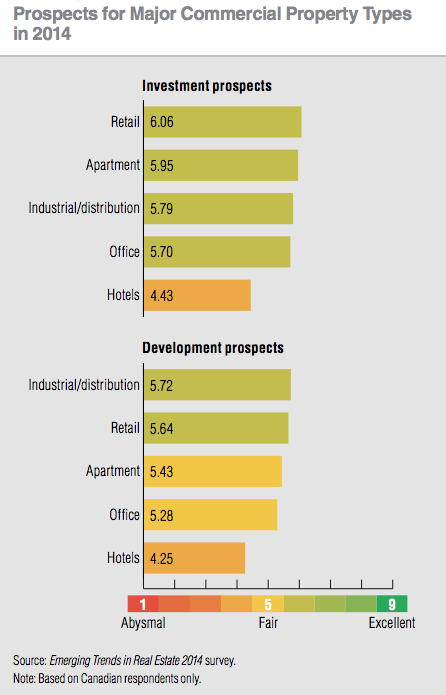 Financing for new condominiums is a case in point. In general, Canadian lenders will not approve a new project until it is at least 70 percent presold. The buyers are usually investors, and presale requirements are rigidly enforced. But in 2013, the stakes were raised even higher as banks started favoring established builders with track records and healthy balance sheets. Smaller developers—even ones that have established track records and were able to borrow as recently as two years ago—are increasingly being forced to seek alternative lenders.
"Bank underwriting has dried up for condo lending except for established relationships with strong, experienced local builders," says an interviewee, predicting that banks will wait until the end of 2014 or mid-2015 to "loosen up" construction lending for condominiums. "They are concerned that it will be two to three years before the existing pipeline is absorbed, even though there is no real concern on absorption as rental demand is strong and rents are increasing," the interviewee adds. Only 9 percent of respondents expect debt-underwriting standards to be less rigorous, up from 6 percent a year earlier.
Opportunities Arise across Property Types
There will be no shortage of opportunities for investors to earn
a decent return in Canadian real estate in 2014. According to the survey, retail, for-rent residential, industrial distribution, and office space will all offer "modestly good" investment prospects in 2014. Hotels, however, are viewed as offering "moderately poor" investment prospects. Indicating an improvement in sentiment, development prospects for all major property types are expected to improve in 2014, with survey respondents placing them in a range from "fair" to "modestly good."
Rental Apartments
For-rent apartments are still an extremely attractive investment choice. The average "buy" recommendation for Canada's major markets is 46.2 percent, while only 8 percent of survey respondents expect 2014 to be a good time to sell for-rent apartments.
In the country's three largest markets—Calgary, Toronto, and Vancouver—39 percent of respondents recommend that investors buy apartments. Similarly, 46 percent of respondents recommend holding—not selling—rental apartments in the major markets. The fourth-largest market, Montreal, has the lowest "buy" rating but still has a higher "hold" rating than the other three major cities.
Survey respondents are apparently confident that a large supply of condominiums in at least two major cities will not put undue pressure on the rental market. In Canada, condominiums are often bought by investors and then rented out, which can put pressure on other rentals. In Calgary, an oversupply of con- dos has reached the point where one interviewee expects them to flood the rental market. But in Toronto, such properties are seen as serving a necessary purpose as "the only real source for more rental stock" to meet "still-strong rental demand," says another interviewee. Concern about the overbuilding of the condominium market, particularly in Toronto and Vancouver, has been a popular topic of conversation, with a level of concern that the condominium market could be heading toward a bubble. Fortunately, the underlying strength of demand from natural household growth and immigration illustrated in the 2014 Net Migration Forecast chart  has been enough to absorb the units being delivered. If the amount of new units being delivered begins to slow, this could lead to a shortage, which may result in rising rents.
Rising rents in condominium rentals could help improve the economics of purpose-built for-rent apartments. Purpose-built for-rent apartments could become a more significant part of the housing stock going forward. If fewer condos become available for rent, tighter mortgage rules make purchasing a home more difficult, and more households make the lifestyle choice to rent rather than own, purpose-built for-rent apartments could help meet the need for more housing stock. However, there remain significant obstacles preventing the large-scale developmentof built-for-rent units. In addition to rent controls, development sites are difficult to obtain, development charges are increasing, approval processes are lengthening, and the longer time horizon for returns limits the number of investors who have an interest in this type of development. Survey respondents view moderate-income and high- income apartments in a fairly even light for 2014, predicting "modestly good" investment prospects for each of them in 2014. They rank in fifth and sixth place, respectively, among other subsectors of property types, below community shopping centers but above R&D industrial property. From a development perspective, respondents put high-income apartments as the second-most-attractive option for the year.
Urbanization and Intensification Continue to Take Hold
Residential development within city limits will be increasingly prevalent in 2014. Reflecting a secular trend toward urbanization and intensification, infill and in town housing easily have the highest investment and development prospect scores for the year to come. The outlook for both types of housing is "good."
If there is a limit to this trend, it's that prices for single-family homes in Canada's major markets are rising faster than personal income. "You can't be in the business when the average man can't afford the average house. We're at that point now," says an interviewee. The average price of a home in Canada increased to $385,906, according to the Canadian Real Estate Association. This is an 8.8 percent year-over-year price gain. This trend could push "more development outside of the green- belt to address affordability," another interviewee predicts. The impact of rising house prices is not isolated to major markets. Home prices are up 4.3 percent year over year, in all markets outside of Toronto, Vancouver, and Calgary.
Development at more distant locations, however, comes with a different set of costs. As previously discussed, the population has clearly shown a desire to move back to the urban core. This reverse migration is intended to eliminate commuting costs and to allow for access to a live/work/play environment. Suburban development will require more investment in infrastructure to attempt to efficiently move workers to and from employment centers. Housing development outside the urban core also requires a lengthy and increasingly difficult and expensive process to obtain the proper entitlements and install the required infrastructure.
The infrastructure issue may become an emerging trend in the Greater Toronto, Calgary, and Edmonton areas and perhaps in other markets. Municipalities seeking new and creative ways to finance infrastructure are increasingly pushing costs and risks down to developers. For example, in addition to ever-increasing development charges, one regional authority in Ontario is requiring developers to finance upfront infrastructure costs for subdivisions that have historically been funded directly by the local government and covered through development charges. This increases costs to developers and also leaves them with the risk of cost recovery from continued downstream development. If other municipalities adopt this approach, it will further drive up housing costs, making homes even less affordable.
Moderate-income single-family housing is seen as an attractive investment in 2014. Respondents see the prospects for other areas of the residential market as less attractive, with the investment and development prospects rated from "modestly poor" to "modestly good."
As part of the urbanization trend, the growing attractiveness to investors of work/live/play developments will lead the outlook for 2014. Survey respondents give niche and multiuse property "modestly good" to "good" ratings. Other niche investments that are likely to attract interest in 2014 are infrastructure and medical offices, which both have higher ratings than other sectors. Respondents remain cool on niche products at the luxury end of the spectrum, reflecting concerns that job growth is too slow to build demand for them.
Markets to Watch
Survey respondents see the average overall rating for Canada's nine largest commercial real estate markets as "modestly good" for investment and development in 2014. Average prospects for homebuilding are rated as "fair." Calgary is their unanimous choice for "top market" for prospects in three categories: investment, development, and homebuilding.
Results for the other eight cities are diverse. Edmonton, Saskatoon, and Vancouver are in the top five ranks for each of the three categories. Toronto has only a mediocre score for investment and development prospects, but it's the second-highest-rated market
for homebuilding. The remaining four markets all score in the bottom half of
the three categories. Secondary markets received higher marks than a year earlier, rising closer to parity with primary ones. Respondents' views on the prospects for
2014 appear to be more related to the specifics of individual markets than in previous years—and less motivated by a search for yield.
Calgary (1). For the second year in a row, Calgary is the number-one-rated market by survey respondents. "Calgary marches to a different drum. It's tied to energy, so it keeps on building," explains an interviewee. "In Calgary, developers are getting innovative by profit-sharing with builders to provide exclusivity to those builders," says another interviewee. Holding the top spot for both investment and development, Calgary moved into first place for homebuilding as well.
The Calgary economy continues to post solid gains, despite the disruption caused by summer flooding. The energy industry, primarily oil, remains strong and will continue to benefit from economic growth around the world. Locally, energy and energy service companies have dominated office demand. Economic activity is being supported by growth in both the goods and services sectors. Manufacturing and construction will lead the goods sector, and personal services and transportation and warehousing are the key drivers on the service side.
Economic activity is projected to grow at a 3.3 percent rate in 2013 and at a 3.4 percent rate in 2014. Employment growth is expected to slow but remain good through the end of this year and into 2014, growing at a 2.4 percent and 2.8 percent, respectively. With improved job growth and personal income gains, 2014 is projected to be another good year. This should support consumer spending, which will support the wholesale and retail trade sector. Stronger business and personal services and a rise in transportation and warehousing activity should support stronger levels of service growth. Housing starts are expected to drop in 2013, although this decline could reverse in 2014. Overall, housing starts are projected to decline to match slightly slower demographic growth. Population growth is projected to rise at a 3.1 percent rate in 2013, but slow to 2.1 percent in 2014. "As Calgary looks for more urbanization, look for condos to turn into rental stock."
"Calgary offers some unique opportunities. It is one of the fastest-growing western markets where it is possible to find assets." By property type, survey respondents see Calgary as a market where it is still attractive to buy for-rent apartment, retail, and industrial/distribution property. The enthusiasm for office and hotel properties is slightly less in Calgary, with respondents feeling that now may be a good time to sell. Overall, the survey reveals that if you already own these property sectors, then it may be a good time to hold.
Edmonton (2). The 2014 survey once again leaves Edmonton behind Calgary. Edmonton claimed second place by being rated number two for investment prospects, number four for development prospects, and number three for homebuilding. "Land development in Edmonton is really going ahead. Partners are acquiring land. Developers are full out with good velocity in Edmonton, where the pricing is steady and not climbing as fast as in Calgary," says an interviewee.
Real gross domestic product (GDP) grew considerably in the first half of 2013 at 4.2 percent, and growth is expected to remain strong through the rest of the year. The goods sector, mainly driven
by the energy industry, is growing at an extremely fast rate. This is likely to continue, barring a severe economic disruption such as a recession in the United States. Service sector growth is projected to slow this year before rebounding slightly in 2014. Domestic demand remains strong supporting the wholesale and retail trade sectors, but most other service-producing industries are experiencing slower growth. Employment growth is projected to slow in 2014 to 1.6 percent.
Population growth remains strong in 2013, but is projected to slow in 2014. The demand for new homes has stayed strong in 2013, but starts are expected to slow in the second half of the year. Even with this, builders will still start more than 14,000 units. Housing starts are projected to average closer to 11,300 units over the next several years. "With the growth in Edmonton, it is a great place to buy land."
Saskatoon (3). There was nearly a three- way tie for second place. Saskatchewan's largest city scores just one basis point behind Edmonton, landing in third place. Saskatoon is consistently rated in this year's survey, with a three for investment and development prospects and a four for homebuilding. The smallest of the nine Canadian markets covered, with an esti- mated population of 285,000, reported absorption of 18,000 square feet of suburban and CBD office space during the first half of 2013.
The Saskatoon economy is growing at a robust pace. GDP growth is projected to be 5.2 percent in 2013. Manufacturing and construction are the main drivers of this economic growth, with services being the trailing sector. Potash production continues to drive economic growth in Saskatoon. A multinational energy company is moving its headquarters to Saskatoon to be closer to its potash mine. Employment growth is projected to rise at an astounding 6.1 percent in 2013 before slowing in 2014. The strong labor market is attracting new residents, and popula- tion growth is projected to be 3.5 percent in 2013 before slipping to 2.6 percent in 2014. Strong population growth has kept the residential construction industry busy. Housing starts hit a high in 2012 at 3,753 units. Starts will remain strong, but will slow to a more sustainable level of around 2,800 units over the next several years.
Vancouver (4). This year's survey puts Vancouver in fourth place, just one basis point behind Saskatoon and 20 basis points behind Edmonton. Vancouver scored very highly for development prospects, rated number two, but trailed behind Edmonton and Saskatoon in the investment and homebuilding sectors. Vancouver is rated four for investment prospects and five for homebuilding. Interviewees express concerns over the liquidity of Vancouver's multifamily apart- ment market, though they see the city as reliable for long-term investments in large shopping malls.
Economic activity is projected to moderate in 2013, with the slowdown widespread through all sectors of the economy. The goods sector will be slower due to lower levels of manufacturing and construction activity. Service sector growth is also expected to be slow due to a lack of support from the goods-producing sector and lower levels of public administration spending. Employment growth is expected to be very slow in 2013 at only 0.5 percent but is projected to bounce back in 2014, growing at a 2.5 percent rate.
Population growth is projected to remain stable at 1.6 percent in 2014. The combination of higher population and employment growth is expected to boost personal income growth, allowing for faster consumer spending growth. This should drive an increase in retail sales of around 3.7 percent in 2014. Developers are projected to start 17,000 houses this year and in the next several years.
From a "buy" perspective, Vancouver is in the bottom half of the markets by property type. The hotel sector is the only one where respondents feel like it
is better to sell than to buy in Vancouver. In general, respondents see 2014 as a market to hold for all property types, with over 50 percent of respondents making this recommendation.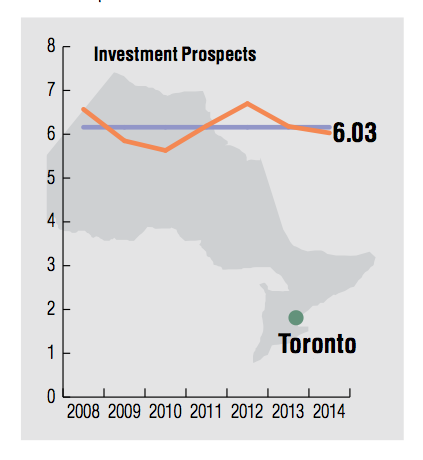 Toronto (5). The survey places the Toronto market at number five for investment and development prospects, falling two rungs from number three a year earlier. Yet sur- vey respondents still like the prospects for Toronto's homebuilding market, which was ranked as number two. The best real estate bets for 2014, says another interviewee, will be Greater Toronto area downtown office, condos in the right locations, and urban retail. They also see opportunities to place debt or equity capital in projects that are not yet financed. Toronto's economic growth is expected to slow in 2013, but by 2014, with global economic conditions improving overall, economic activity will strengthen. This should give consumers the confidence to increase their spending. Real gross domestic product growth is forecast to reach 2.7 percent. Manufacturing, construction, and services are all expected to experience positive growth in 2014. Employment growth is projected to grow at a 1.6 per- cent rate next year.
Demand for new homes in Toronto has benefited from foreign investment, the improvement in the economy, low interest rates, and good population growth. With inventories rising, starts in 2013 are expected to slow. The decrease in starts is expected to be a short-term event, with starts ramping back up in 2015 to meet an expected rise in demand. Population growth in 2014 is projected to be 1.7 percent.
Toronto remains near the top of the buy, sell, or hold analysis. Ontario's largest city is the top "buy" market for office and is the number-two market for each of the other property types. Survey respondents feel strongly that Toronto is a market where you should either buy or hold. Retail and rental apartments are the only property sectors with higher "sell" recommendations, but even these are low compared with the other two choices by property type. "Toronto is a great retail market, but the deals that are available are really competitive."
Winnipeg (6). The provincial capital of Manitoba climbs two rungs in this year's survey. While investment prospects are ranked seventh, development prospects and homebuilding are both ranked sixth. Winnipeg is the first of what could be considered a "second level" of markets due to a 250-basis-point difference between Winnipeg's score and that of Toronto. Interviewees say they are worried about the liquidity of the city's multifamily apartment market. "In Winnipeg, there
is no pipeline for office despite constant growth," an interviewee adds.
Winnipeg's economic growth is projected to rebound in 2014 to 2.1 percent. Several factors are expected to support this stronger growth; manufacturing out- put, construction spending, and a growing service sector should all contribute to higher levels of economic activity. The manufacturing sector should see a boost in transportation equipment, public project construction is on the rise, and the service sector will benefit from better employment gains. Total employment is projected to rise at a 1.5 percent rate in 2014.
Housing construction has been boosted by both single-family and multi- family starts. Housing starts are expected to peak in 2013 and then decline in 2014 due to slower population growth and a tightening of mortgage rules that are slowing demand. Starts could rebound in 2015 if the economy continues to recover. "Winnipeg is a smaller market, which makes buying office difficult, but it is a great market for retail."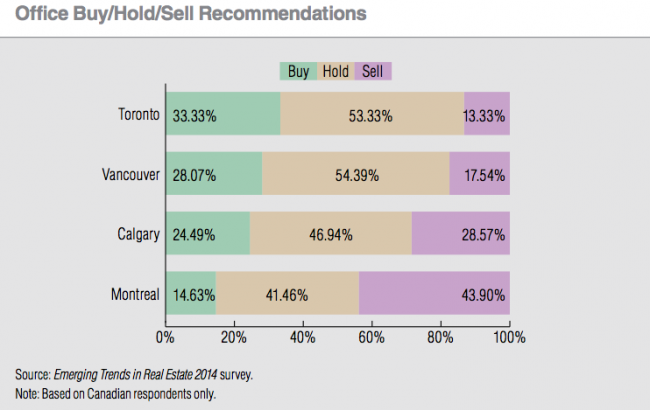 Ottawa (7). Survey respondents place Ottawa at number seven, two rungs lower than a year earlier. Canada's capital city outperforms Winnipeg in investment prospects, but trailed in development and homebuilding. Ottawa takes sixth place for investment prospects, seventh for development prospects, and sixth for homebuilding prospects. "Ottawa is soft if not shrinking," says an interviewee. Another interviewee cites recent movement out of the downtown core as another issue.
The Ottawa economy will continue to deal with federal government austerity in 2014. The public administration sector may begin to stabilize, however, which will help growth. The high-tech sector outlook is also mixed, with manufacturing expected to continue to struggle while related services are showing some growth and are adding employees. Employment growth is projected to
grow 1.6 percent in 2014.
Housing starts are projected to fall to levels not seen since 1999. The decline in jobs, tighter mortgage rules, and a balanced resale housing market are cooling demand for new housing. Housing starts are projected to remain at lower levels over the next few years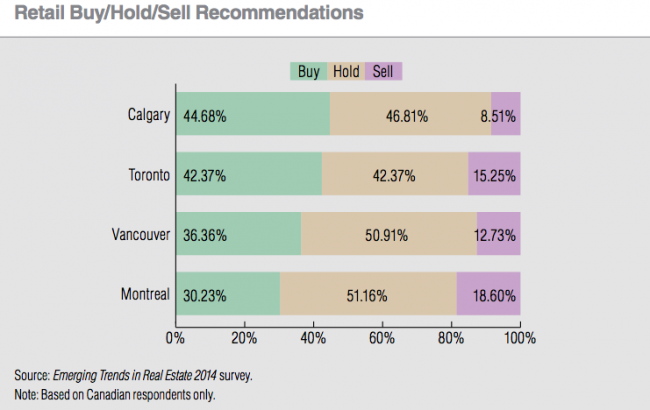 Halifax (8). The 2014 survey places Halifax at number eight, slightly ahead of Montreal. Halifax's prospects for investment, development, and homebuilding were all near the bottom. Investment
and development prospects are both rated eighth while homebuilding is ranked ninth. One interviewee expresses concern that the Nova Centre, a 1 million- square-foot mixed-use project that is under construction, "will have significant negative impact" on the city's commercial real estate market, while an oversupply of multifamily apartments "is already leading to rent squeeze and rental incentives."
Economic growth in Nova Scotia's provincial capital is projected to rise in 2014. Utilities tied to natural gas production are projected to lead the higher level of economic activity. Nonresidential building activity will also contribute to positive economic growth. Finance, insurance, and real estate services are projected to grow as Halifax becomes a back office service center. The manufacturing sector will get a boost as production is slated
to begin on a multi decade contract to build ships for the Royal Canadian Navy.
Employment growth is projected to rise 1.6 percent next year.
Housing starts have been rising in 2013, with the strength in starts coming from mul- tifamily units. Single-family housing starts have actually been declining. The decline is a response to the number of condominiums that have recently been delivered. Housing starts are expected to remain at lower levels over the next few years.
Montreal (9). Quebec's largest city scored just below Halifax, with a particularly low rating for development prospects, which lowered its composite score. Whether it is related to construction, corruption, or politics, interviewees expressed uncertainty about investment in Montreal. One interviewee says, "Montreal faces major risks because of uncertainty relating to politics," referring to an anticipated election in the spring
of 2014. Economic growth is projected to rebound to 2.1 percent in 2014. This level of growth is near the median of all markets. The economy has been dealing with weakness in the goods-producing sector, while the services sector has been showing steady growth. Total employment growth is expected to be slow in 2014 at only 0.6 percent.
The Montreal office and multi-residential property markets all have some unique characteristics that will affect performance in 2014. There hasn't been a boom in office construction in decades. Some developers have land in the right location to build, but they need to have a significant tenant before they would announce a project. The few projects that were announced will go to market, but very little construction or development is expected over the next two to five years.
The multi-residential inventory in Montreal is old and requires redevelopment. As one interviewee notes, a deterrent to new multi-residential construction remains rent control in Quebec. There is little incentive to invest in older inventory of multi-residential: "You never know what you'll get," and it is hard to get returns back.
The condo and industrial markets have enjoyed relatively strong performance. The condo market is vibrant; however, interviewees question whether the velocity with which presales have occurred on new-construction projects can possibly continue as banks continue to increase their presale requirements. Interviewees have mixed views on whether all projects announced will go to market, but good urbanized locations will continue to be good investments. The higher "sell" rating for industrial/distribution properties likely reflects the general age of the stock. The industrial/distribution market is in a relatively healthy condition, and owners may be able to attract premium prices by selling to investors with redevelopment plans.
Best Bets in 2014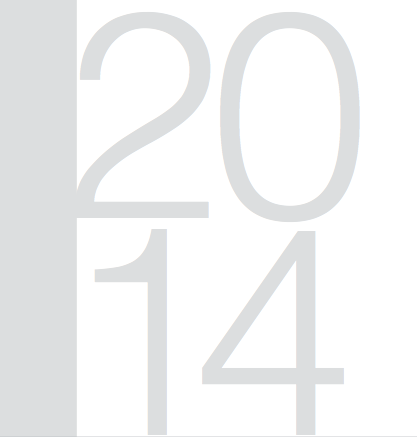 Urban and Infill Retail Development
The outlook for retail is strong nationwide, but urban and infill retail could be exceptionally attractive in 2014. Retailers go where the customers are, and with the continuing trend toward urbanization more of those customers are moving to the urban core. Urban residential growth in multiple markets is well ahead of urban retail development. This has created a shortage of retail to serve a population that increasingly wants to live, work, and play without using transit. Retailers see this as a growth oppor- tunity not unlike the opening of the suburbs. As they develop formats to meet the demands of the urban market, retailers will need to find attractive locations. These locations are likely to be a combination of new development and redevelopment of exist- ing properties.
Build mixed use downtown. Mixed-use projects are soaking up investment dollars in one of the most rapidly emerging invest- ment opportunities in Canada's major urban downtown areas. Combine condominiums with offices and retail stores to take advantage of a growing preference among reverse migrants and millennials to live, work, and play within walking distance of downtown areas. These investments are in line with the Emerging Trends Canada survey, which finds that retail, for-rent residential, industrial distribution, and office space will all offer "modestly good" investment prospects in 2014.
Invest in commercial/multifamily developers. Commercial/ multifamily developers are expected to have "slightly better" pros- pects than homebuilders in 2014. Multifamily developers may see more attractive opportunities in neighborhoods that are seeking to increase the density of development within the urban core.
Lock in or refinance at low rates. Borrowers are locking in low interest rates on loans before they climb higher—and are negotiating longer-term loans. The cost of capital is expected to increase to 4 percent from 3.5 percent in 2014. Market partici- pants could benefit from longer borrowing terms at fixed rates.
Look for underperforming or mismanaged assets. In a strong market, look for investments that are underperforming due to poor management. Use operational skills to improve the profile and attractiveness of the asset to take advantage of strong market fundamentals and growth.
To view the full publication, please visit:
http://www.pwc.com/en_CA/ca/real-estate/publications/pwc-emerging-trends-in-real-estate-2014-en.pdf