Efficiency by Design: Cost-Saving Apartment Concepts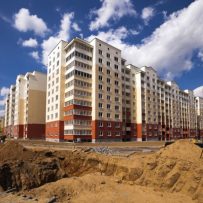 A big topic of discussion for apartment developers for 2014 was high construction costs, driven both by more expensive materials and higher labor resulting from manpower shortages.
A few years ago, building efficiencies were not top of the list for clients who sought new designs for multifamily dwellings, CEO Mark Humphreys said recently. However, that's changed. The need to lower building costs by trimming the apartment fat is more pronounced at a time when renter demand has soared.
In the past, multifamily projects with long corridors that averaged 68 percent efficient on net to gross square footage were pretty typical. Today those numbers are out the window.
"Nobody really cared about that a few years ago, but construction costs are completely out of control," Humphreys told listeners at the company's annual kickoff webinar in January. "So now everybody cares about efficiency."
The Dallas-based architectural firm that specializes in multifamily design and construction saw a spike in requests for many of the company's six most efficient design concepts.  The e-Urban® student and multifamily residential designs, as well as high-rise products, generated the most interest.
Rent-ability, sell-ability efficiencies driving popularity of designs
The company, the largest multifamily architect in the country, wrote 111 proposals last year for its e-Urban designs and another record-setting 94 for high-rises. After the dust from the paperwork cleared, Humphreys & Partners wrote 10 percent more contracts for high-rise projects than in 2013. Even though fewer deals were struck for e-Urban projects, the style was again the most popular like it was in 2013.
What makes those products attractive, as well as the company's other designs, such as the "Big House"® and e-Max®, are the efficiency rentable/sellable area ratings of 85 percent or higher. The designs have increased total rentable space because of the absence or reduction of corridors and better positioning of elevators, parking spaces, and common areas.
The e-Urban has become one of the company's most popular designs because of its 86-88 percent efficiency rating and low construction costs compared to other building types. The concept, which replaced the company's previous line of garden-style apartment homes, averages 30-35 units per acre and is the second least-expensive product to build at $100-$110 per square foot depending on the number of floors. One project in the Southeast is being done for slightly less, Humphreys said.
"It's an extremely efficient product with no corridors," he added. "In my opinion, why it's popular is that developers are getting more for their money on the construction costs."
Humphreys & Partner Architects President Greg Faulker said what helps make the e-Urban desirable is that there are about 50 percent more units per acre in a surface parking model compared to the 24-25 of a garden-style project. The incremental costs are slightly higher, he said, but it's worth it.
"It makes a big difference in your pro forma and returns," he said. "It's a little more cost, but way higher density than a garden product that is surface parked."
Elimination of corridors adds effectiveness to high-rises
Another popular concept is the company's high-rise, or "Home Rise"® product, which started to take off two or three years ago as developers focused more on the urban core. While they are typically much higher per square foot to build, the taller structures can be as efficient as three- and four-floor models. Humphreys points to a 150-unit high-rise in San Diego that has a 90 percent efficiency rating.
Driving efficiency for skyscrapers is the elimination of long corridors that have to be lighted, air-conditioned and cleaned. In the Home-Rise product, two elevator lobbies serve as hubs where each of the units on the floor opens. The fire corridor connects the fire stairs and is unfinished, which helps reduce building costs significantly, Humphreys said.
"It saves 3-5 percent of the building or approximately 25-30 percent of the entire circulation area," he said. "If you had a 300,000-square-foot building, it would cost you approximately $60 million. Multiply that by 5 percent and it could potentially save you $3 million in construction costs."
In addition, he said, the owner saves the operating costs of maintaining the corridors.
A shining example of the company's high-rise success is the completion of Grant Park in Minneapolis. Many of the 291 units available for purchase did not stay on the market long. The project sold out in 30 days.
"It's been extremely successful," Humphreys said.
Story by: Tim Blackwell