Effective Maintenance Management: People, Processes and Technology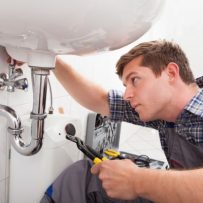 Maintenance can be a necessary evil in the apartment industry. Water heaters leak, HVAC units fail and pipes burst in units old and new. As repairs add up, so do expenses, which drop straight to the bottom line.
Effective management of repairs and expenses will lessen the blow in many cases, but that goes beyond getting good deals on replacement items. As with many business applications, solving problems efficiently often comes down to people, processes and technology.
If you think you're ready for maintenance, look again. An approach that doesn't involve a business solution that includes those three critical elements could fall short and cost a company money in terms of outgoing expenses or missed revenue opportunities.
Poor project management can make maintenance a dirty business
Jane, a top leasing agent, wanted to further her career in property management and eyed an administrative maintenance position in her company. She approached the owner and said she believed she could take on the role.
The company promoted her to a project manager position and she began the arduous task of managing multiple vendors for issues that required keen attention to detail and strict deadline performance. However, a few months later, she was asked to leave the company. Jane lost a grip on the position because she didn't manage deadlines and put projects in jeopardy. She simply didn't possess the right skill set to handle maintenance.
"Maintenance is a very dirty business, figuratively," says RealPage Vice President James Wagley. "When it comes to maintenance, it's one mess-up and you're either out or you are now on the radar, and you're being watched for every single move you make."
Vendors must be managed so that jobs are being charged correctly. Nobody wants to overpay for materials that are going to be used elsewhere. Poor record keeping can cost a property money, and so can having the wrong people and processes in place.
Ideally, a good maintenance vertical should have a strong leadership team, established reporting structure for personnel, clear job descriptions and a balanced vendor matrix that identifies primary and secondary vendors, as well as maintenance categories, Wagley says.
Streamline maintenance processes to help leverage opportunities
An effective maintenance program has streamlined processes that leverage opportunities and keep costs down and even identify revenue streams, establish business development strategy and enable proper execution of the plan.
For third-party managers, a tightly managed maintenance process may mean the difference of billing a maintenance project or eating the cost.
"You don't want to be perceived as outdated," Wagley says. "So, how do you make sure everything is leveraged in the system, and that you're not archaic?"
He says write it down and begin streamlining maintenance processes by identifying who does what, how it's done and how it should executed. That includes putting standardized costing and vendor agreements into the matrix.
"Spend the time to do it," Wagley said. "If you can get that down, that impacts every part of your maintenance time. Invest the time up front and it will carry all the way through."
Finally, he says, apply available software tools designed to run a tight ship in maintenance.
Maintenance management software is the right tool
There is a difference between executing a process and using a tool, Wagley says. Technology should be a tool to allow you to execute a process. If not properly executed, technology can work against you by creating increased workloads. It's like hammering a nail with a wrench. Usually that takes twice as much work as using a hammer.
"If you look for right tools to execute your business strategy, you will win," he said.
Maintenance management software can be a property's best friend. Much has changed in maintenance in the last five years, including tenant expectations and city and state compliances.
Wagley says that maintenance management software is not just about managing large projects but handling the day-to-day aspects of maintenance like service requests and turnovers. The ability to track projects using a timing mechanism enables property managers the visibility to see right down to the last nail used in a project or task.
Effective use of technology available today offers a close-up view of the moving parts of maintenance.
While Jane may not have been the right person to assume her company's role, she might have fared better through the power of maintenance technology.
"You will be more efficient," Wagley said.
Story by: Tim Blackwell