Edmonton rental market spurred by steady recovery in employment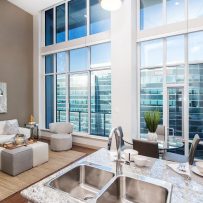 Edmonton's rental apartment segment is feeling ever-greater pressure from consistent growth in the region's employment, according to a new analysis.
In its Q3 2019 Multifamily Market Report covering the Greater Edmonton Area, Marcus & Millichap stated that in the 12 months ending June, developers completed work on 1,050 apartments in the city.
As of mid-year, more than 2,300 purpose-built rentals were being constructed in response to heavy demand.
Marcus & Millichap cited Alberta's robust energy sector as a significant driver of this hunger for rental housing space. The sector's recovery is expected to spur the revitalization of the manufacturing, logistics/transportation, and professional services segments.
"As the provincial capital and home to a large public sector, Edmonton has an employment base that tends to be more stable than Calgary's," the report noted.
Over the past year alone, Edmonton saw the creation of around 20,700 jobs, representing a 2.7% expansion. The jobless rate currently sits at 7%, a figure that will further change as 2019 rolls on.
"Job creation should remain steady through the end of the year, bolstered by growth in healthcare- and trade-related firms, driving demand for rental housing," Marcus & Millichap added. "Edmonton is anticipated to outpace most other metros in household growth over the next five years as a strong job market motivates young professionals to locate here."
Edmonton's rental market will be further fuelled by the considerable $300 gap between the average monthly mortgage bill and the average rental rate.
"This has largely been due to the mortgage stress test, which requires potential borrowers to qualify at a higher mortgage rate, limiting the amount they can borrow," the report explained.
"First-time homebuyers feel the brunt of these measures, maintaining a broad renter pool, which has contributed to a 160-basis-point drop to the rental vacancy rate last year to 5.3%. Tightening vacancy supported a 2.6% increase to the average rent to $1,155 per month."