Edmonton post-secondary schools grappling with shortage of student housing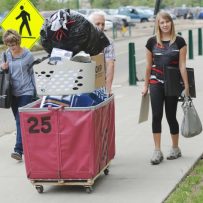 In a bittersweet ritual marking the end of summer and the start of adult lives, thousands of post-secondary students moved out of their parents' homes Sunday and into campus residences across Edmonton.
But with the supply of student housing outstripped by demand and a citywide rental vacancy rate at 1.4 per cent, the nervous ones moving into residence with the help of siblings and parents were lucky.
"I'm from a small town, so this is a big move," said Mikayla Gilbertson, a physiotherapy student at MacEwan University, who is leaving her home on a ranch near Wainwright to live in residence.
Her parents are relieved she landed one of 878 student spots at the MacEwan facility.
"When you rent an apartment, you've got to have it 12 months of the year, so two months out of the year you won't be using it and with residence, you don't have to worry about that," said Mikayla's father Robin Gilbertson.
Living on campus also means less to worry about, he said.
"She walks out in the morning and goes to the first building over. No bus ride. No long walks, and we know how Alberta winters are."
There were 1,420 applications for a room in the residence, up 10 per cent from last year, said Jim Fowler, MacEwan's housing co-ordinator.
"The 1.5-per-cent occupancy has increased our wait list and we've been sold out six years in a row," Fowler said.
For those who didn't get a room in residence, the options include looking online or at housing registries, he said.
"It's difficult. It really is tough for students to find space. The farther down the (LRT) train line you go, it's easier, but the closer to the downtown core — not so much."
Alberta's strong economy is attracting more newcomers to the province. In 2013, net migration was 102,465, a record high.
Most new arrivals to Edmonton move into rental accommodation.
This has driven down vacancy rates and pushed up the monthly average rent for a two-bedroom apartment by 6.4 per cent, to $1,180, between 2013 and 2014, according to the Canada Mortgage and Housing Corp.'s spring rental market survey released in June.
Edmonton's three biggest post-secondary schools are pondering how to boost student housing.
The Northern Alberta Institute of Technology (NAIT) is Canada's largest post-secondary institution without student housing, spokesman Frank Landry said.
"We are in discussions to build a student residence adjacent to NAIT in the Blatchford development," said Landry, referring to the former City Centre Airport lands.
"We're in the early planning process, and are doing our due diligence to determine costs and potential design. The opportunity to develop student housing has not existed up until now because we did not have the space."
Construction timelines have yet to be determined.
At MacEwan, where the residence was built eight years ago, Cathryn Heslep, vice-president of student services, said Edmonton has a shortage of student housing, especially for those with families or spouses.
"If we had the land capacity and the resource base to be able to add on to our residence, we would," Heslep said. "At this point, that's not an option for us. Our footprint is relatively limited."
About 1,000 first-year students moved into the University of Alberta's Lister Centre residence Sunday and another 700 students moved into other housing facilities.
The U of A residences are full, with long waiting lists.
"If we had more student housing at the U of A, we would be able to fill it, and so we are actively building," said Brock Richardson, acting dean of students, residence life.
"There's a lot more help and support if you're on campus versus if you're just finding a basement suite or an apartment."
Including Augustana campus, the U of A has 5,000 beds, enough for 12 per cent of its students. In the long term, the university wants to increase that to 20 per cent.
Last year it opened two new residences with about 250 spaces, and 70 new spaces in two infill housing projects will open next year.
The following year, the Peter Lougheed hall is expected to open, providing 150 spaces. A new 300-bed residence for east campus is a few years away.
"We're trying to build, but one of the struggles we face is Edmonton has really high construction costs and … it's tough to build as many as we can," Richardson said.
Story by: Bill Mah, Edmonton Journal  |   bmah@edmontonjournal.com
Twitter.com/mahspace