'Cease and desist': Bay Street calls on Poloz to drop rate cut talk and take aim at housing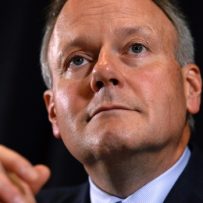 Interest rates might be too blunt a tool to cool the hot housing markets, but leading economists say the Bank of Canada is "certainly not powerless" when it comes to runaway real estate prices.
The central bank will weigh in on the health of the economy Wednesday when it delivers a rate decision and its accompanying monetary policy report, which provides a deeper analysis of international and domestic economic conditions. A move in the key rate is not expected, but Governor Stephen Poloz will undoubtedly face tough questions about low rates and soaring home prices during the ensuing news conference.
Unrelenting gains in the Greater Toronto Area have frustrated house hunters pointing fingers of blame, with some targeting the central bank for keeping rates so low.
But don't expect the bank to change its tune.
"The Bank of Canada will likely stick to its view that house prices are best dealt with through macro-prudential policies particular to that market, with the interest rate setting used to steer the economy overall," Avery Shenfeld, CIBC Capital Markets' chief economist, told BNN in an email.
If Poloz raises rates to cool Toronto he runs the risk of derailing the country's other housing markets and the overall economy.
Still, the bank's influential powers don't start and end with the overnight rate.
"The BoC should cease and desist with talk of possible further rate cuts, which simply fuel the sense that rates are never going higher, and instead start warning that rates will someday rise," Doug Porter, chief economist at BMO Capital Markets, told BNN via email.

"Even if this causes a shadow of doubt in the housing market, it would be helpful."
Recent economic strength in Canada could bolster the case for dropping any bias toward rate cuts. The job market continues to surprise, adding 19,400 jobs in March. GDP and factory sales both rose 0.6 per cent in January. And retail sales popped 2.2 per cent to start the year.
Still, central bankers like to focus on downside risks; and after three consecutive months of surpluses, the trade balance fell into deficit in February.
But dropping the rate cut bias isn't the bank's only influential option.
Capital Economics Senior Canada Economist David Madani, who has long been a bear on the real estate market, says Poloz could use "much stronger language" when it comes to overvaluation in the housing market.
"The Bank of Canada needs to pay more attention to the housing issue because it is a huge threat to the entire economy," added Madani by email.

"In 2014, it concluded that housing was overvalued by as much as 30 per cent. They could update that figure. It's probably above 40 per cent nationally now."
While Poloz is leaving the housing solution to the politicians, BMO says it was ultimately Bank of Canada rate hikes that broke the hot real estate run of the 1980s.
"Fully understanding that rate hikes are not local, a four per cent, five-year fixed rate would quickly do to Toronto prices what an array of other cute policy tweaks haven't/won't be able to do," BMO wrote in a report to clients Friday.